Healthy Living Tops Kitchen Trends for 2017

Forget resale value: homeowners now want a kitchen that suits their lifestyle and are prepared to spend up big to get it.
AUSTRALIANS are willing to spend up big when it comes to their kitchens, and why not? The latest annual Houzz survey reveals that more than a third of homeowners lead a healthier lifestyle after renovating, and kitchens have become a place for socialising and eating as well as prepping and cooking meals. As a result, we're increasing the size of our kitchens whenever possible and, according to the Houzz survey, 68 per cent of renovators spend more than $20,000 on their kitchen improvements.
"Houzz research has shown that the majority of kitchen renovations are unlikely to be motivated by the desire to improve a home's resale value," says Houzz principal economist Nino Sitchinava. "With the growing trend of homeowners staying put, the return on investment from a kitchen renovation is less tangible, instead measured in healthier habits and more face-time with family and friends."
Read on to find out more about the top materials, appliances, features and lighting Australian homeowners covet in their kitchens, and who they hire to carry out the work. The results may surprise you.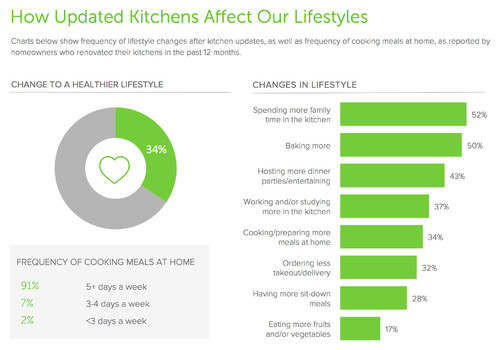 A new kitchen isn't just nice to look at, it's a pleasure to be in. So much so that 34 per cent of homeowners report living a healthier lifestyle after renovating. Survey respondents also say they spend more family time in the kitchen, bake and cook more often, and order takeaway meals less often. Almost half say updating their kitchen also means they entertain more often, and 17 per cent even say they now eat more fruits and vegetables.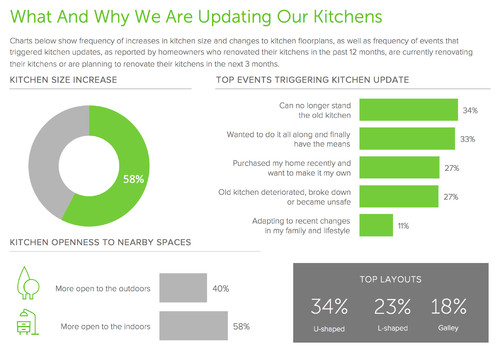 By the time many of us renovate, we're well and truly over our old kitchens. According to the survey, the top event that triggers a kitchen update is no longer being able to stand the old one, followed closely by finally saving up enough to do so. Given the chance, most of us opt for a U-shaped kitchen, we make it bigger if we can, and open it up to the outdoors or other rooms wherever possible.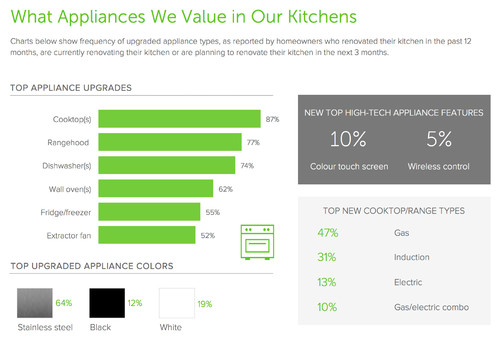 Gas cooktops are still the number one choice among renovators, but induction stoves are catching up in popularity as word spreads of their ease of use. Despite appliances becoming available in every colour of the rainbow, stainless steel remains a top favourite. Black appliances are rising up the ranks, however, in line with a widespread adoption of black in the kitchen – even if homeowners haven't embraced black cabinetry, they're often willing to add a modern edge with a black appliance or two.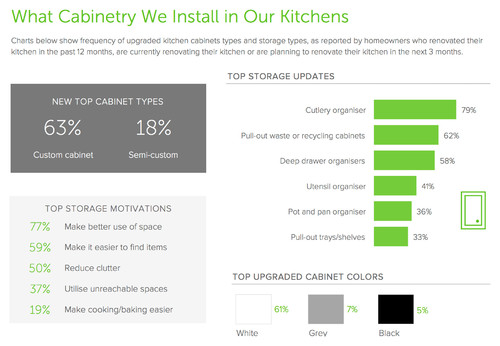 Almost two-thirds of the 2380 Houzz survey respondents said they opted for custom cabinetry for their kitchens, aiming to make better use of the space, reduce clutter and make items easier to find. White kitchens remain a firm favourite, with 61 per cent of homeowners going for this classic look.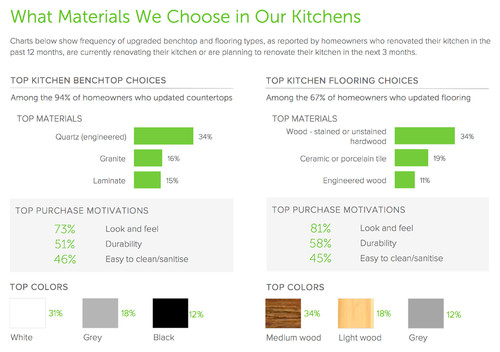 Just about everyone updates their benchtops in a renovation, and engineered quartz is the top benchtop material of choice. Granite is no longer a go-to benchtop material, but the new choices available in longer-wearing laminates are making renovators take another look. Durability and ease of cleaning come into play in benchtop decisions, as well as the look and feel.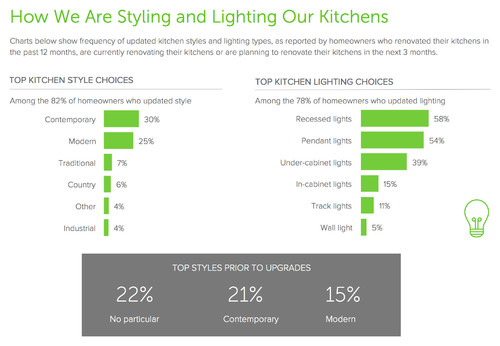 Kitchens don't just have to function well, renovators are looking to create a smart space designed for entertaining in style. More than half of renovators strive for a contemporary or modern kitchen over country, industrial or traditional styles. And lighting is more important than ever – it's being used to light up kitchen work zones as well as set the mood for dining or entertaining. A combination of recessed, pendant and under-cabinet lights is often used.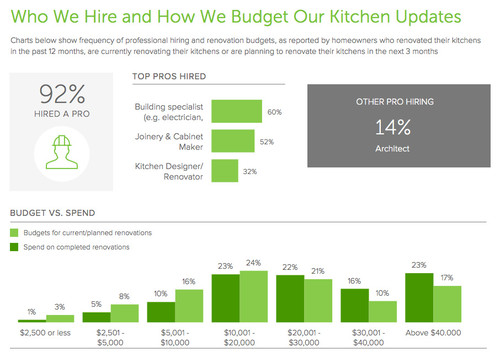 DIY kitchens are a rarity, despite the big savings that can be had. More than 90 per cent of homeowners hire pros to do the job for them, whether tradespeople, kitchen designers or architects. Most homeowners spend at least $20,000 on renovating their kitchens, with 23 per cent spending more than $40,000.
Source: Houzz