6 Tips For Styling A Living Room For A Large TV
Most of us love relaxing in front of the TV, whether it be a big sporting match with your mates or bingeing your favourite streaming obsession.
Having a large TV is popular in many households (after all, who wouldn't want to feel like they're going to the cinema in their own home?) yet it can be hard to know the best way to display a larger piece of technology.
Huge TVs can suck the life from a room and deaden conversation if they're not in proportion with the rest of the space, especially if they're left on.
It's not only better for the room aesthetically to keep the TV in proportion, but according to feng shui experts, having too many screens is bad Qi, as is the cord clutter that often accompanies an entertainment zone.
Jane Newey, interior stylist from Hausfrau Interiors, gives her tips for arranging your main living room with a larger TV.

1. Safety first

The first step for a larger TV is to ensure it's been correctly installed. Hire a professional if necessary so that the screen is safely secured against the wall should it get nudged by children or pets. Make sure cords are discreetly stowed away so they're not tangled or create a trip hazard for the family or any guests.

2. Consider scale

Think about the size of your room, says Jane, and select your TV accordingly. If you have a small room then try not to have a gigantic TV as it will overtake the space.

But even if your room is on the larger size it doesn't mean you should opt for the biggest TV available – you should also consider how far the seating is from the screen. While it might seem to make sense for larger, open-plan living rooms to have a bigger screen, if the seating is just a few metres away then it's best to keep the screen small. After all, no one likes to feel like they're sitting at the front row at the movies.

3. Don't make it the first thing you see as you enter

Try not to have the TV on the wall that you see when you walk into the lounge room, suggests Jane. Instead, try to have it on the opposite wall from the entry so that it's not the first thing you see. This will minimise its presence and allow for other things like plants and artwork to catch the eye first.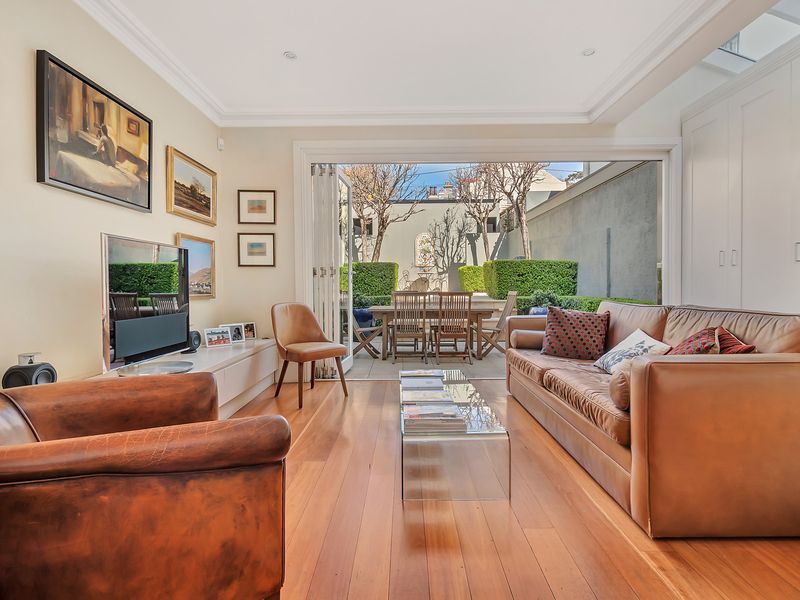 Picture: realestate.com.au

4. Make the space about conversation, not just TV

Arrange the seating so the main sofa is facing the TV and the armchairs are on the opposite side, says Jane. This means the room can be more of an interaction and living space and the chairs can be moved around to face the TV when required, or when friends come over to watch the big game.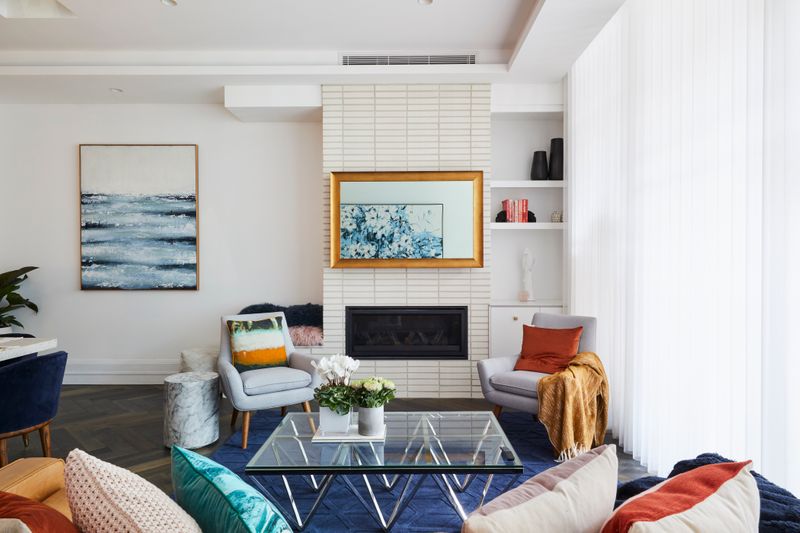 Picture: Nine Network

5. Go high tech, if you have the money

If you have the cash to splash to invest in a TV that turns into artwork or a mirror then go for it, suggests Jane. Art is a great way to put your own personal touch in a room, so having a TV transform into your favourite piece is a wonderful way to decorate.

6. Hide the TV away when it's not in use

If budget allows, Jane suggests having an entertainment cabinet with doors that close. This means the TV can be shut away when the game ends.
Picture: realestate.com.au

7. Decorate the spaces around the telly

If your budget doesn't allow, or it doesn't make sense for the room to have a closable cabinet, then shelves might be the next best thing, says Jane: "Even if you just have shelving around the TV you can display other elements such as books, art and plants so TV isn't that main focus."
Inexpensive shelves from brands like IKEA or Kmart can be purchased for under $50 and will be a great place to display decorative objects that will counterbalance the TV.
Otherwise, you can simply hang your beloved artwork and decorations straight onto the walls. It's a great way to add a personal touch to the room.

Source: Realestate.com.au
Hero image: Getty