How to choose the right bed linen for every season
While colour scheme, soft furnishings, and plushness of pillows are all personal choices, knowing how to dress your bed for each season is key to creating a comfortable and stylish sanctuary.
"Bed linen should always be changed according to the season," says interior designer Emma Blomfield, who says the right linen is not only a must for a stylish space but also assists with achieving proper shut-eye.
"Certain fabrics can impact quality of sleep. A calm relaxing bedroom always has carefully selected natural materials layered together."
Alex McCabe, bedding designer from Kip & Co., agrees. "I find a freshly made bed with beautiful bedding is great for my mental health," she says "If I'm snoozing in an unkempt bed, it probably means I'm off my game. Choosing the right bedding takes it up another notch and brings me real joy."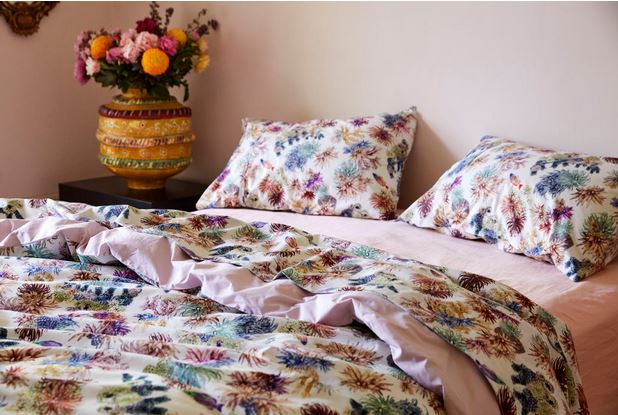 Photo: Caitlin Mills for Kip&Co
Summer
A hot night demands light breathable fabrics and natural fibres like linen, bamboo and cotton are not only eco-friendly but also temperature regulating.
"Linen is the winner," says McCabe. "I love French Flax, which is the best quality material available. You can feel the difference, it's supple and buttery, and I love it in peachy tones or green jungle vibes."
Blomfield agrees. "Linen is beautifully breathable," she says. "Its slubby finish gives it a lovely texture. I layer with European and sleeping pillows, decorative cushions and a light cotton bed cover."
If cotton is your preferred sleeping partner, look for the best quality you can afford. Consider a high thread count, anywhere between 200 to 800, to ensure that is fine and super soft to the feel.
Summer styling tip:
"Bedlinen, lighting, books and plants," says Castles. "If you have a little bit of these four things, then happy days."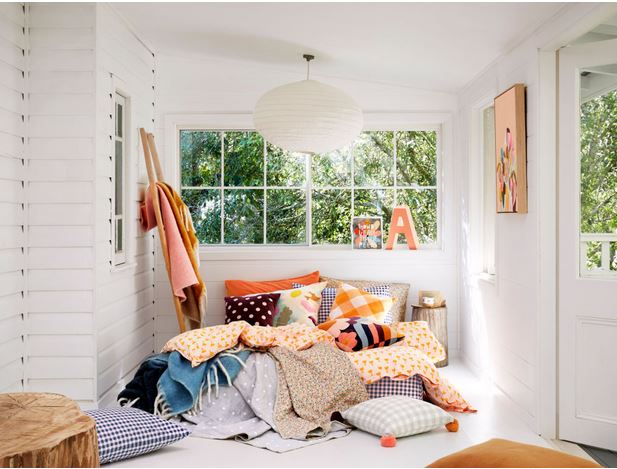 Photo: Rachel Castles
Autumn
Transition your bed from summer to autumn by switching your light cotton and linen sheets for slightly weightier versions.
Layer with a lightweight cover insulted with 100 per cent wool that is soft and breathable. Underneath add a soft wool underlay that feels cosy and offers the perfect amount of warmth.
"Take inspiration from the changing seasons," says Blomfield. "Look for rusty tones that you see in autumn leaves like mustard yellows, burnt oranges and mossy greens. Style with cosy elements like a chunky knit blanket, plush cushions and a faux fur throw placed on the end of the bed."
Autumn styling tip:
Linen and cotton are both known for having a beautiful crushed look. Rather than ironing, embrace the natural texture for a bed that begs you to dive deep into it.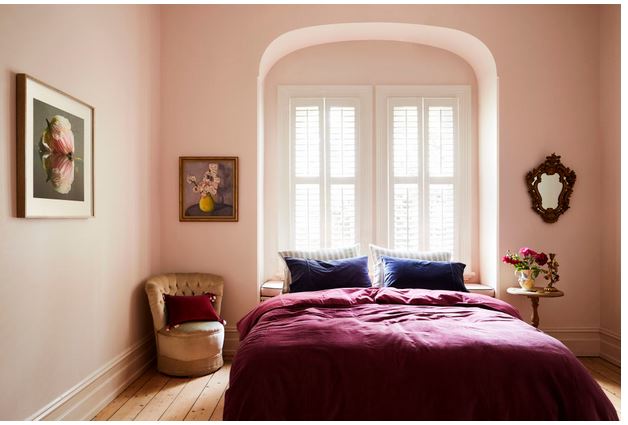 Photo: Caitlin Mills for Kip&Co
Winter
"Even though it's cool, avoid cotton-rich or polyester fabrics that can make you overheat," says Blomfield. "Flannelette sheets are great for extra warmth. Layer with throw rugs and heavier weight cushion slips, and a duck down quilt for keeping the heat in."
"It's all about textures," says Castles. "I prefer linens and velvets because they're a little warmer and cosier."
McCabe says the key to a winter bed is layering using rich textures and deep luscious jewel-like colours.
"I love heavier fabrics like velvet with an extra blanket or quilted bedspread," she says. "Just don't forget to invest in a great insert. There is nothing worse than a sad flat quilt."
Winter styling tip:
"A secret trick decorators use is to fill scatter cushions with feather inserts rather than polyester ones," says Blomfield."They look plumper for much longer and are nicer to snuggle up with."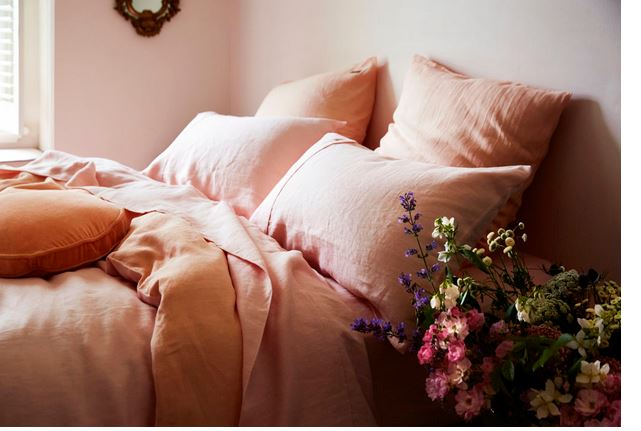 Photo: Caitlin Mills for Kip&Co
Spring
When the weather starts warming up, it's not only time to spring clean your house, but also your bed.
"Air out your mattresses and dryclean everything from the mattress protector to pillows," says Blomfield. "Invest in a set of light linen sheets in crisp white and layer with pastel tones for the ideal spring colour scheme."
Replace heavy winter covers with lighter ones made from natural fibres that feature an interesting three-dimensional texture, like wool, cashmere, linen and silk.
"I love the look and feel of waffle weave blankets too," says Blomfield. "Especially teamed with throws and cushions in a mix of textures."
Spring styling tip:
If you crave colour, create a tone-on-tone effect by combining different bed linen, throws and cushions in varying shades of washed-out colour, like pale pink, peach, cream and nude.
Source: Domain.com.au
Hero image: Caitlin Mills for Kip&Co