Quirky Crafts Perfect For Easter Celebrations
With Easter on the horizon it's time to prepare yourself not just for mounds of chocolate and hot cross buns, but for fun crafty ways to decorate your place ahead of the celebration.
Easter allows for so many festive and colourful ways to decorate a space, which are perfect for kids and grown-ups of all ages.
From creating the best-ever egg hunt, to making your own traditional hand-painted eggs, there's no end to the crafty fun you can have around this time of year.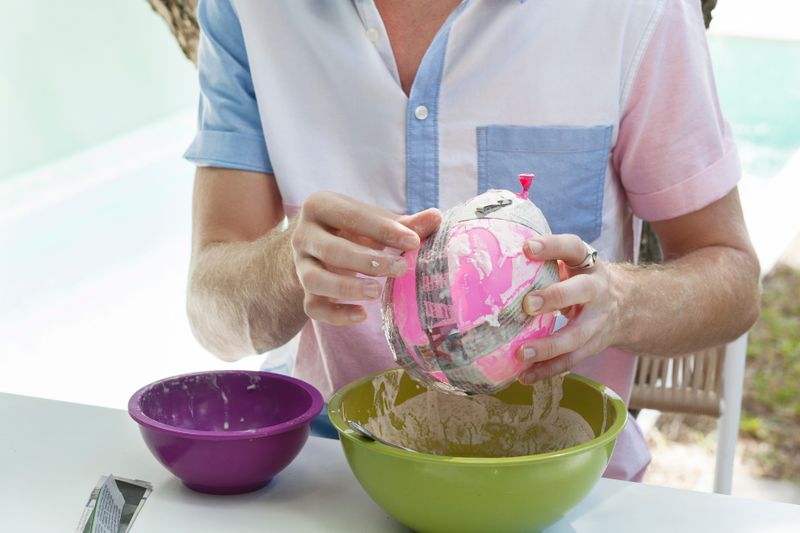 Here to help you get cracking on your egg-cellent decor is Sydney stylist and DIY expert, Adam Powell, starting with these mini piñatas filled with – you guessed it – eggs.
Mini Easter egg piñata
Who doesn't love a good Easter egg hunt? Some of the best memories from our childhood can be found in those sugar-fuelled pursuits of colourful, foil-covered chocolate hiding in all the nooks and crannies of the garden.
But what could be more exciting as a finale than letting the kids (or kid-like grown-ups) explode their own egg piñatas, full of Easter egg goodness for all to enjoy?
What you'll need
Small balloons

1 Cup of flour with 1 cup of water to make papier-mâché glue

Old newspaper

Crepe paper

Glue

Scissors

Chocolates

Confetti

Ribbon

Mix up your papier-mâché glue – I find 1 cup of water to 1 cup of flour is plenty and works best.

Rip up small strips of old newspaper.

Blow up a few small balloons. Of course you could do one large one, in which case blow up a standard sized balloon.

Start to layer the papier mache around the balloons. The smaller and wetter the pieces, the better.

Hang your papier-mâché balloons out to dry.

Cut strips of crepe paper and feather the ends with scissors.

Repeat step four for the second layer of papier-mâché.

Once your balloons are fully dry, cut a small hole in the top to pop the balloon and take it out.

Using glue, apply the fringed crepe paper in any colour in a spiral motion until the egg shape is completely covered.

Pop the chocolates and confetti into the small hole at the top and cover the hole with fringing.

With the scissors, pierce a tiny hole into the top to feed the ribbon through to hang.
You're done! Have fun hanging them around the garden for a fun twist on the Sunday morning Easter egg hunt.
Source: Realestate.com.au
All pictures: Tamara Graham