Nail Christmas With These Epic Present-Wrapping Hacks
From glittery ribbons to a bursting balloon surprise, these next-level gift wrapping hacks will put a smile on the faces of your friends and family this Christmas.
Who doesn't LOVE receiving gifts on Christmas morning, but there's something even more exciting about handing a well thought out present over to a loved one and watching as their expression turns from curiosity to delight.
This year you can take things to the next level with these epic present-wrapping hacks. The recipients of your presents will be as overjoyed with the beautiful exterior of their presents before they've even so much as opened them.
The balloon burst
Picture this: You hand over a curiously large and lightweight box that presents an interesting task. Before your gift recipient can receive their present, they must first pop it open to a reception of flying confetti. It's loud, ridiculous, embarrassing, and perfect all at the same time. This technique is ideal for a small present that can easily fit inside the tight opening of a balloon. Think a small box, watch, or piece of jewellery.
You will need:
– A large or clear balloon
– Soft paper confetti
– A large box
– Toothpick
– Graphic card
Instructions:
1. Stretch your balloon opening to fit your gift inside.
2. Fill your balloon with soft confetti (sharp edges may pop your balloon).
3. Carefully blow up your balloon to fit the shape of your chosen box.
4. Attach a toothpick to the inside lid of your box with a graphic card that reads, "Pop me!" or something similar.
Tip: Before gifting, you may wish to rub the balloon on a blanket or something that will increase the static within. It will help to coat the entire balloon with confetti and hide your present!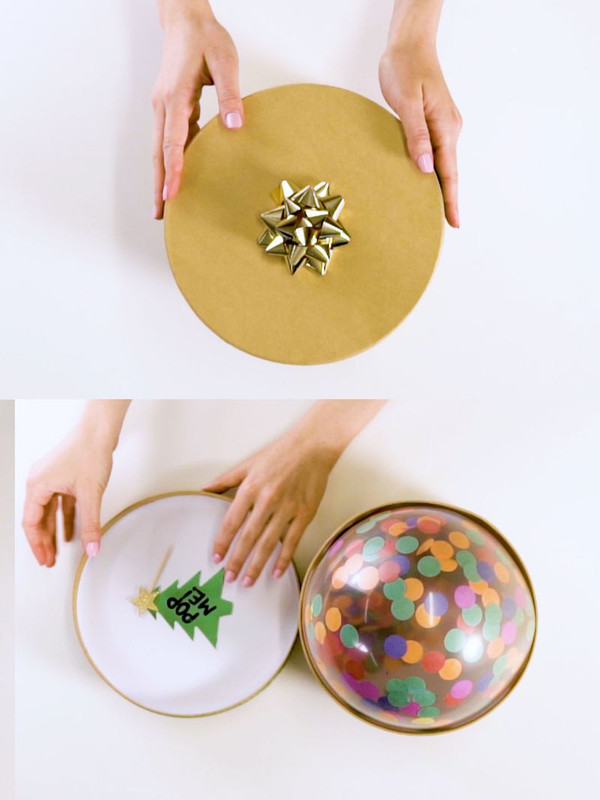 The toilet roll hack
This hack is ideal for small or awkwardly shaped presents. Not only that, but it feels great giving a new purpose to toilet rolls or paper towel rolls before recycling.
You will need:
– A toilet or paper towel roll
– Double-sided tape and/or sticky tape
– Wrapping paper
– Ribbon to decorate (optional)
Instructions:
1. Roll your toilet roll in wrapping paper leaving a couple centimetres extending beyond the roll at either end. I like to use double-sided tape for seamless edges.
2. Tuck the excess wrapping paper inside the roll at each end.
3. Slide your gift inside and pinch one end, taping it tightly together.
4. Pinch and tape the other end at the opposite angle to create a triangular shape.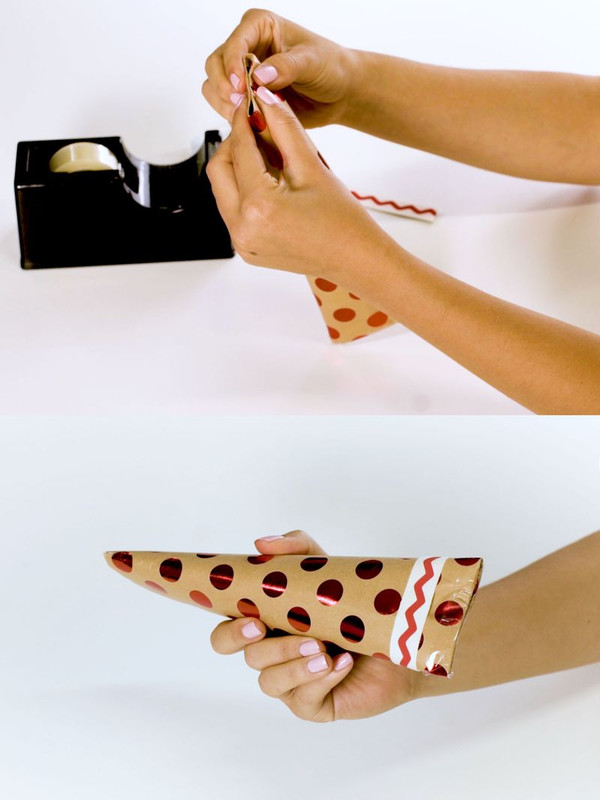 The glitter ribbon
Add a touch of glam with a sparkly ribbon that's anything but basic. This hack allows you to be as creative as you wish, with colours, shapes and texture all dependant on the imagination. The hack works best on a solid gift with structure, like a box or book.

You will need:
– Wrapped present or box
– Double-sided tape
– Glitter of any colour
Instructions:
1. Using double-sided tape, lay down a design of your choosing. In the video above, I opted for a ribbon shape, but you could spell out the first letter of the recipient's name.
2. Peel off the tape so that your design is sticky. Then sprinkle glitter along the whole pattern.
3. Tap off the glitter and collect the excess to reuse another time.
Tip: You can use hairspray to lock the glitter in place.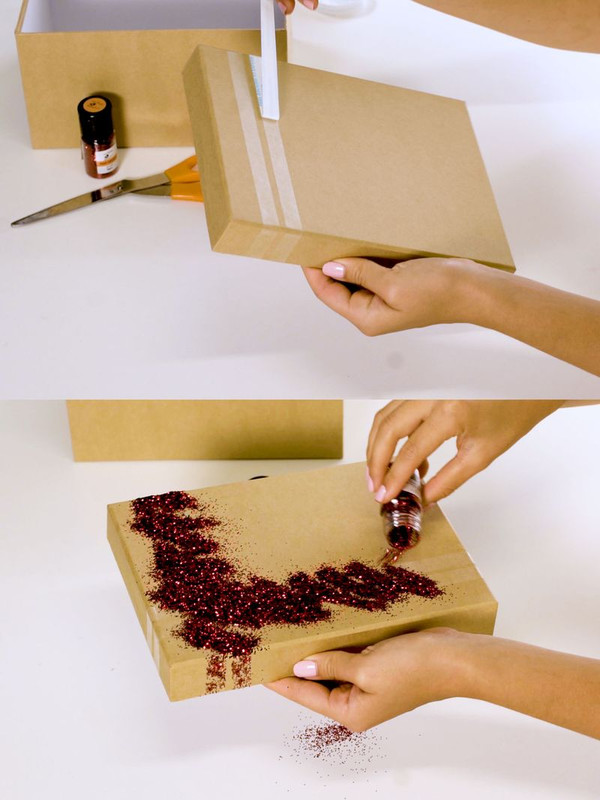 Source: Realestate.com.au
All images: Realestate.com.au