The Best Outdoor Lights For Different Spaces
Outdoor lights are one of the loveliest ways to brighten your space and bring it to life.
You can choose to keep it super practical for everyday living through in-ground deck lights, built-in lights above your barbie or mounted brick lights to illuminate your outdoor stairs.
For parties and entertaining you can jazz things up: Think string lights, origami-style lanterns, and creatively thought-out candles to light up the centrepiece of your outdoor table.
Here are the lights and looks we're loving.
For your… pool
For underwater lights, your best bet is flush-mounted LED pool lights – flush meaning the light is perfectly in line with the pool wall.
Surface-mounted underwater LED lights are another popular option as they're more affordable and easier to install.
"Everyone's using LED lights these days," says James Hill, an electrician from NEXPhase Electrical Services. "The cables aren't as thick, they're easier to run, and they last a lot longer."
"Some LED pool lights can be operated through a remote control with a dimmer function, which changes the colours. Some also have different modes like disco settings. It's very cool."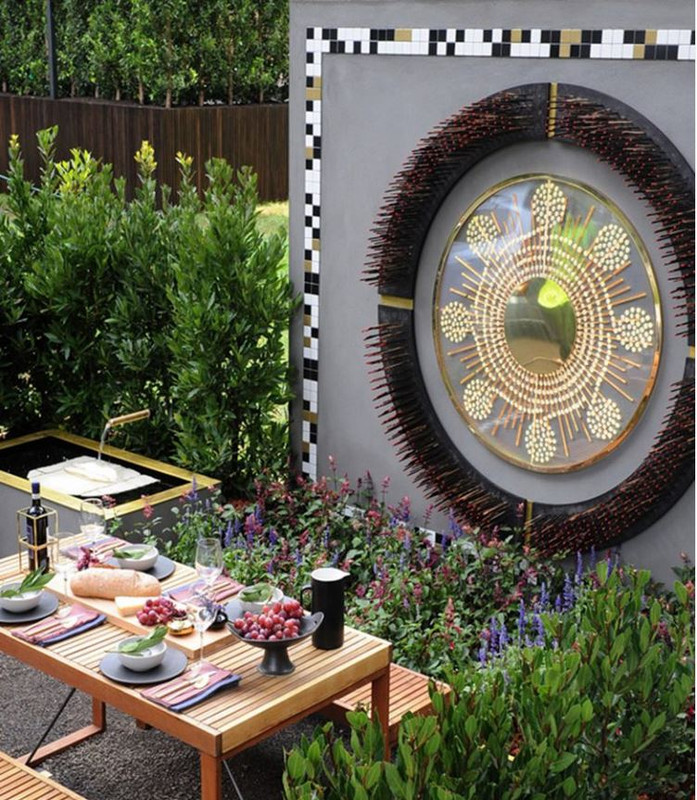 Picture: Ilanel
For your… garden
To complement your garden and its beauty, consider creating a focal point by lighting up your outdoor space with a statement wall light.
Ilanel specialises in the design and production of bespoke lighting for homes, offices, hotels, bars and clubs.
His work, namely an RGB LED colour changing statement light that you can change to suit your mood, has been showcased at the Melbourne International Flower & Garden Show.
For your… balcony
Balconies – as any inner-city dweller would know – can often be small. So opt for lighting options that complement this cosy feeling. Ideas include string lights and candles.
For an eco-friendly DIY task: Take a 2L plastic milk bottle and cut it in half so you have a square shape that's about 7cm deep. Fill half with beach sand, add your candle and voilà!
For your… deck
"If your deck has an awning or roof above it, low lights could be a good option to create some mood lighting," suggest Hill.
Other ideas might include low-level footlights around the deck or in-ground lights illuminating your plants and trees.
"If you have an outdoor kitchen or barbie, position the light exactly above the kitchen top to avoid any shadows on your face," says Hill.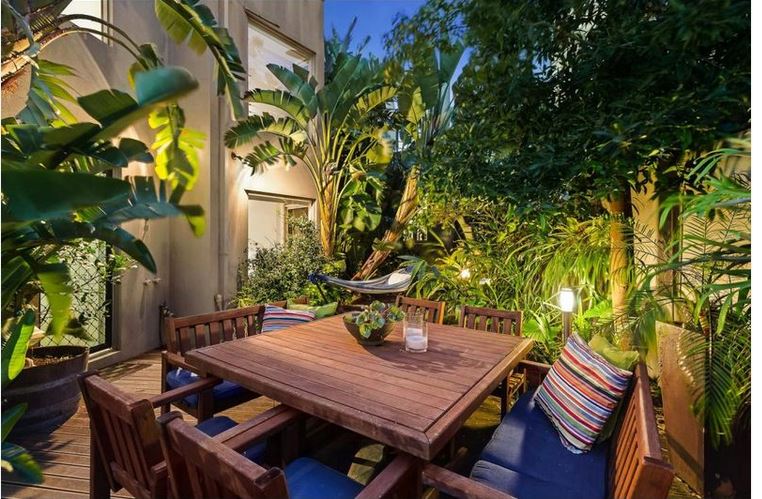 For your… rooftop
Again, the chic rooftop is all about mood lighting. This is the place where al fresco dining and sunset tipples take place – so get uber creative and jazz it up however you wish.
Try hanging origami-style lanterns or solar lanterns that automatically turn on at dusk, string party lights along a railing or position bamboo tiki torches in the corners of the rooftop for an exotic feel.
Source: Realestate.com.au