How To Repaint A Bathroom Ceiling Like A Pro
Bathroom ceilings – more than any other ceiling in the home – cop a lot of wear and tear at the hands of excess moisture in the air.
IF your ceiling is showing signs of moisture damage, in the form of mould or mildew, or even peeling paint, it could be just a lick of paint away from a fresh new look.
Cherie Barber, founder of Renovating for Profit, shows us how to safely repaint a bathroom ceiling without causing further damage to the plaster, or ourselves.
1. Ensure there is no asbestos in ceiling
To prepare a bathroom ceiling to paint, you first need to consider whether or not it contains asbestos.
"Almost all bathroom ceilings prior to 1987 contain asbestos. If it does, you can't scrape it – you'll need to get a licensed removalist in to remove it," Cherie says.
If the ceiling does not contain asbestos, follow these steps:
Remove any ceiling lights, heat lamps and fixtures.
Scrape off any flaking paint with a scraper or putty knife, getting into nooks and crannies.
Using a hand sander or mouse sander, patch any holes.
Re-sand over the holes to ensure a nice, clean surface.
Cherie says a good finish largely comes down to a good surface prep.
"Spend time getting a smooth, even base. A lot of people skip over this step but it's vital if you want a good finish," she says.
2. Wash ceiling
Hopefully your ceiling isn't in such a bad state that it needs washing, but if it is badly stained due to mould or smoke, use a wet cloth dipped in a sugar soap solution to clean it.
Then take a dry cloth to soak up any excess moisture.
To prevent any stains, spots or mould reappearing, apply one coat of good-quality stain blocker at this stage – Cherie suggests Zinsser stain blocker.
3. Prime ceiling
Because ceiling paint is usually a mix of primer and paint, it's usually not necessary to apply primer – unless the ceiling has been heavily stained. In this case, apply one coat of good-quality primer, ensuring it's compatible with oil-base paints if that's what you'll be using.
4. Paint ceiling
Cherie says to opt for a ceiling paint that has anti-mould properties, specifically designed for a bathroom. Take a paint roller and paint tray, using it to apply your first coat. Use a small paintbrush to paint in and around lights, fans, ceiling roses and cornices.
Apply the second coat in the same manner. Ideally apply two coats for lighter colours and three to four coats for darker colours.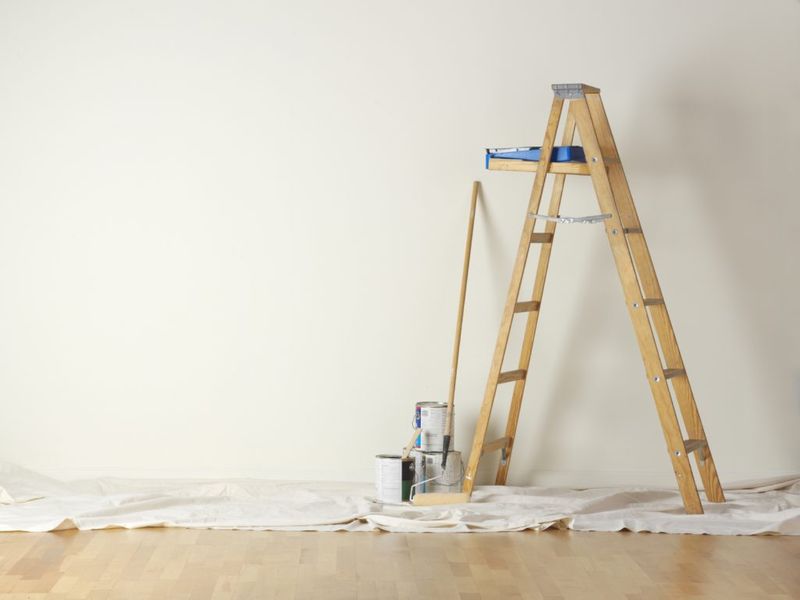 Picture: Getty
What type of ladder should I use to paint my bathroom ceiling?
It's recommended to invest in a good ladder that's double-sided and has space to hold your paint containers so you have a free hand to help you balance. "People lose their balance by holding their paint can in one hand and the roller in the other," says Cherie.
Painting a ceiling may seem like an easy task to do yourself. But working at heights can cause injury if you're not properly prepared. "A fall at just 2m can still do a lot of injury," Cherie says.
Source: Realestate.com.au
Hero image: Getty