For an Organised Hallway, Follow These 7 Simple Steps
Follow these rules to whip your hall into shape and say goodbye to clutter.
Fed up with falling over shoes when you walk through the door? Sick of scrabbling around fruitlessly for an umbrella? These organising rules will help you transform your hallway from a trip hazard into a gleaming model of efficiency.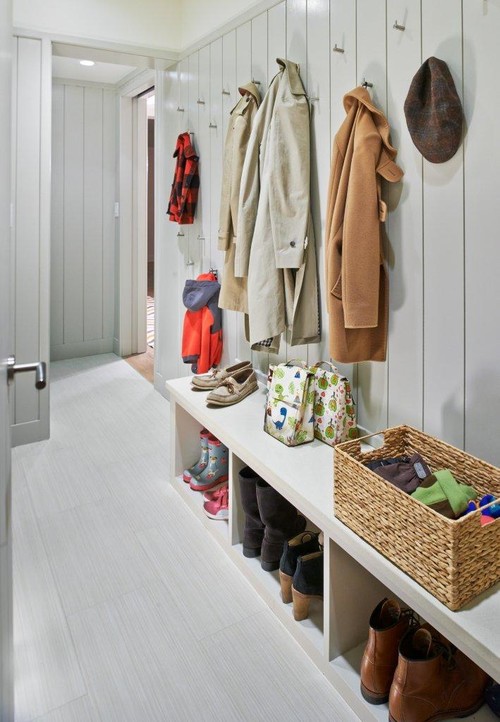 1. Pack away off-season items

The first rule of getting your hallway organised is to think about seasonality. There's no point in cluttering up valuable hall space with thick winter coats in summer or with sandals and beach bags in winter.
Take a good look at your cupboards or hall storage; remove anything that isn't seasonally appropriate and store it elsewhere – under a bed, in the attic, or on top of your wardrobe. This will allow you to use your hallway space more effectively and get a clearer picture of what you need to store there.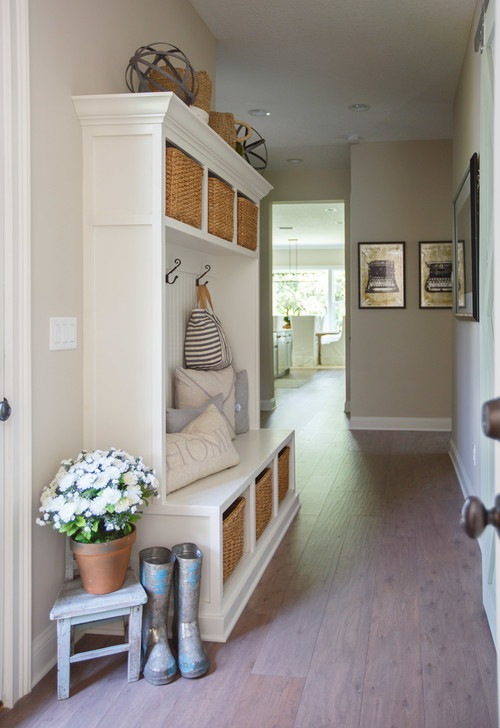 2. Subdivide the space

Once you've cleared away any out-of-season items, it's time to assess the available storage space. Large cupboards or deep shelves can seem like a good idea at first, but they can also be a shortcut to tangled disorder.
For a hallway, it can be better to divide up cupboard space instead and create smaller cubbyholes where individual items can be stored and ordered. Then you can either allocate one per family member, or allot according to item type – one for scarves, one for bags, one for shoes, and so on. Which leads on to the next step…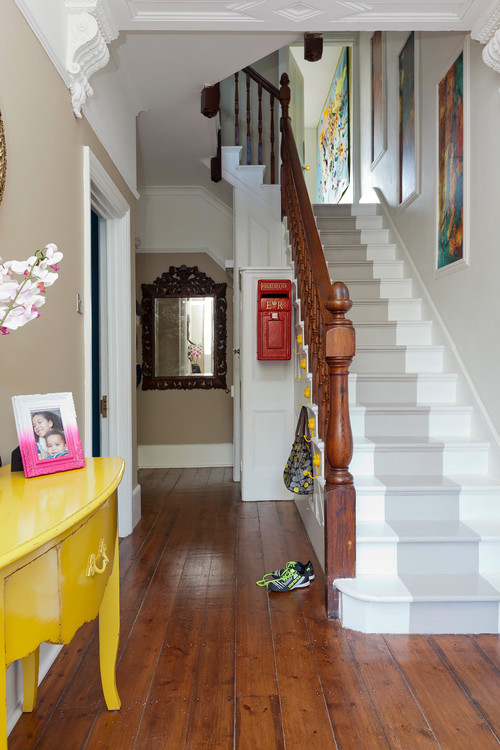 3. Share ownership of the storage

When a space starts to get messy, it can quickly escalate, as everyone assumes the clutter belongs to someone else and no-one takes responsibility for the tangled heap of scarves, hats or shoes.
To keep a hallway tidy and clutter-free, you need to share ownership of it with each member of the household. The easiest way to do this is to assign each family member a shelf and/or peg. That way, you can clearly see who's keeping their space tidy and who's the clutter culprit.
You won't be able to do this with every item – it may be tidier to store all umbrellas or shopping bags together, for example – but with coats and shoes, it makes sense to give ownership.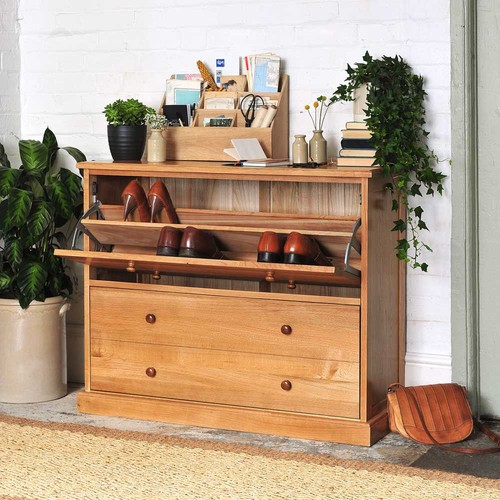 4. Allocate space for mail and keys

Hallways are one of the trickiest areas in the house to organise, because the first thing you do when you walk in from outside is shed layers of clothes and belongings. Each of these items needs a dedicated home to avoid a pile of small items drifting onto surfaces.
Keys, bags, post, umbrellas, takeaway menus, pens, lip balm… Take stock of the items that usually end up on your hallway table and allocate a storage space for each one.
As well as looking visually neater, this should also make leaving the house quicker, too, as you'll know straight away where to find your keys, wallet and phone, rather than frantically rummaging through a drawer full of clutter.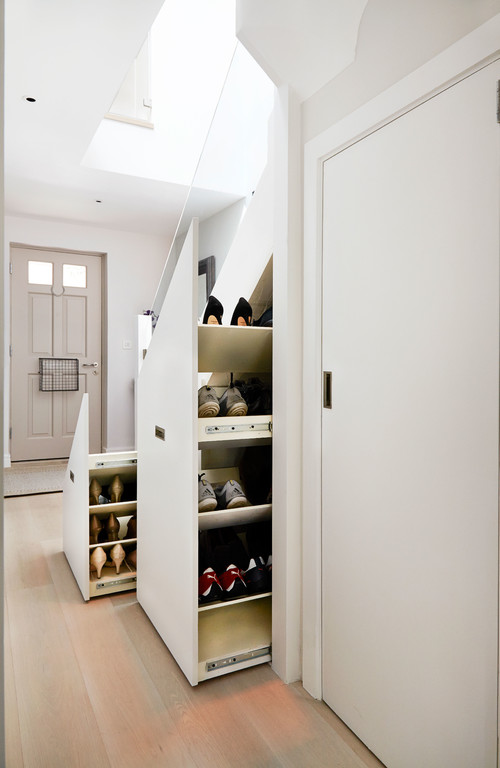 5. Don't underestimate how much shoe storage you'll need

How many pairs of shoes do you think you own? Four… Five… Ten? If you're honest with yourself, the number is always higher than you first think and, when you multiply that by the number of people in your household, it's clear you're going to need some serious storage to keep them all tidy in a busy hallway.
Under-stairs solutions like the one in this image are wonderful, but equally an upright shoe cupboard or rack that runs along the length of a hallway will help contain unruly footwear.
There are two main ways to organise shoes – either by type or by owner. Choose which way seems more logical to you and stick to it, allotting a space for every pair of seasonally appropriate shoes. (The rest will be stored out of sight elsewhere in the house if you followed step one.)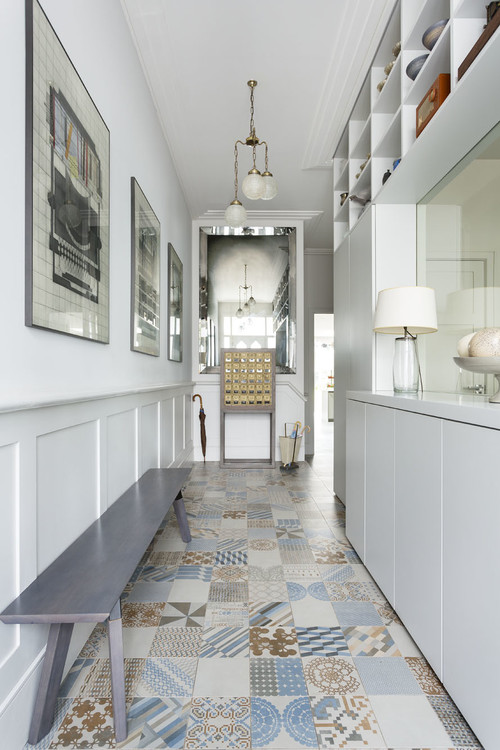 6. Take it to the top

In a narrow hallway, you often have to go high to get extra space, as it's usually not possible to give up floor space for deep cupboards. This might mean investing in a bespoke storage cabinet if you're redecorating or, alternatively, getting creative with an off-the-shelf solution to extend your existing storage space.
If you have a hallway cupboard that doesn't quite reach the ceiling, you could stack some large boxes neatly on top, or consider adding some cubbyholes above it as shown here.
Alternatively, if you have one row of hooks or pegs, add another row above or below the existing run to double up on vertical storage space. You might need a step or ladder to reach the high shelves and pegs, but these can be used for items that aren't needed daily.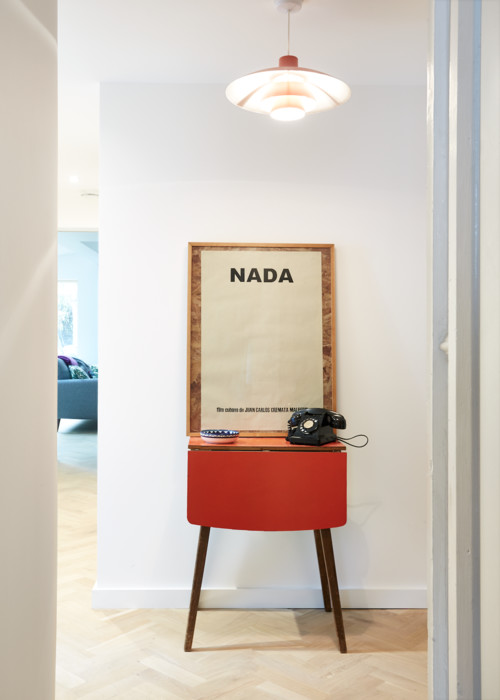 7. Create a telephone table

Remember the telephone table? Before cordless phones and mobiles, it was common to have a dedicated space, often in the hallway, for sitting and making calls. While there's little need for this these days, as phone calls can happen anywhere in the house, there's something to be said for bringing back the telephone table.
Why? Not for installing a landline, but for having a dedicated place to store and charge your phone in the hallway, and one central place to keep all chargers and cables neatly stored. This has the added benefit of helping to cut down on idle screen time and constant phone checking, which can happen when you carry your phone around the house with you.
Source: Victoria Harrison, Editor, Houzz UK & Ireland, Houzz