7 Alternatives to a Standard Bedside Table
Look for small-space solutions to ensure your nightly essentials remain within reach.
Whether your bedroom is shoebox-small or you're after an alternative to standard bedside tables, these inspiring images should get your cogs whirring. As with all tight spaces, pre-plan to ensure your furniture and fixtures are positioned for practical living.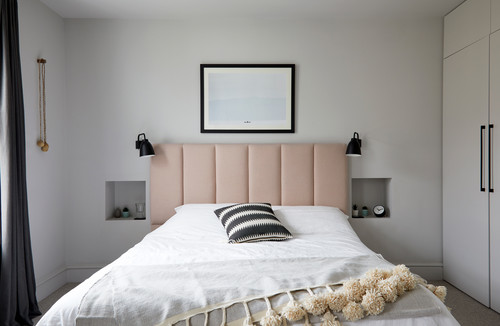 1. Create a cubbyhole

A boxed-in bedside nook is a neat option for those looking to cull the clutter. Most wall alcoves require framing in wood before plasterboarding and skimming, so this kind of design needs to be incorporated into a refurbishment at an early stage.
Here, the designers have installed wall-sconce lighting to negate the need for trailing cables or plug sockets nearby, keeping the styling suitably smart.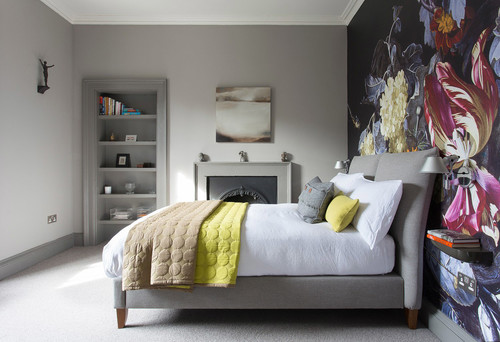 2. Try a slimline shelf

For an ultra-unobtrusive bedside storage solution, you can't go wrong with a simple shelf. These teeny-tiny curved numbers fade into the background of the spectacular statement wall behind, allowing it to remain centre stage.
Take a look at the style of your bed to see if this arrangement could work for you – scrolled headboards that sit away from the wall may make reaching your shelf a stretch.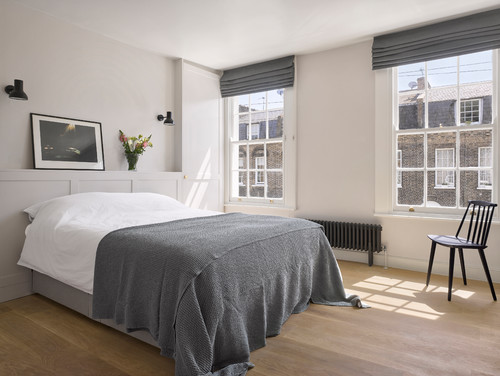 3. Join the panel

Use MDF panelling to form a false feature wall that doubles as a headboard and shelf in one. This technique also creates a recess for utilities, such as electrical cables and pipework, which might prove useful, as well as allowing for storage alongside.
Choose a one-colour finish for woodwork and walls to keep the effect seamless and subtle, or dabble on the dark side with contrasting panelling for a bolder look.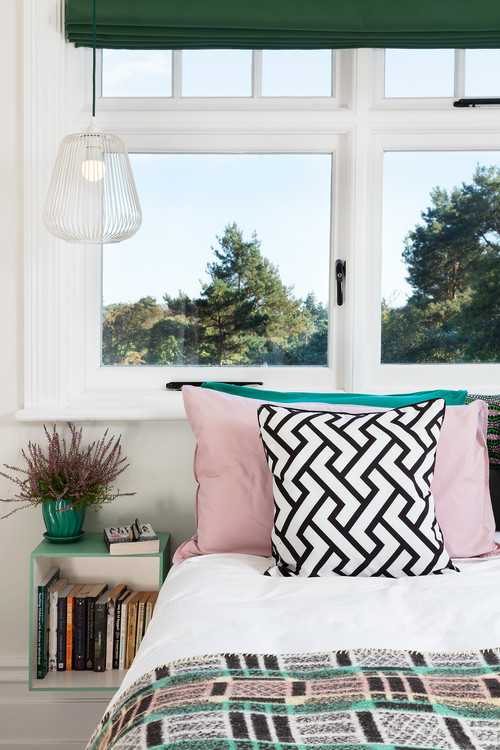 4. Box up your belongings

Up your reading quota with a pile of tempting tomes tucked away in a cute cube of storage by the bed. This wall-mounted shelf provides enough space for nightly essentials without encroaching on the room.
A ceiling-hung bedside light means no surface space is lost to a lamp, plus it adds a decorative flourish.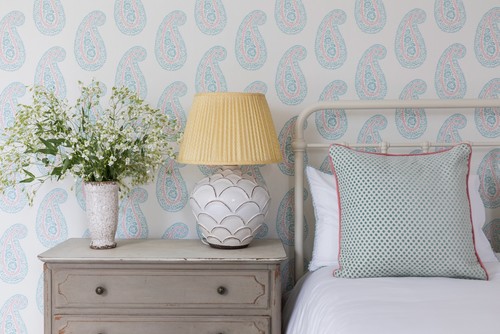 5. Call it a drawer

If space is at a premium, ditch your dedicated bedside table and replace it with a multi-functional chest of drawers to boost your bedroom storage. As long as the comparative heights are compatible (think reaching the light switch or putting down your glasses), this combination can work well.
Choose pieces with a contrasting finish – for example, painted drawers with a wooden bed frame, or timber with metal (as here) – to avoid the look of a showroom set.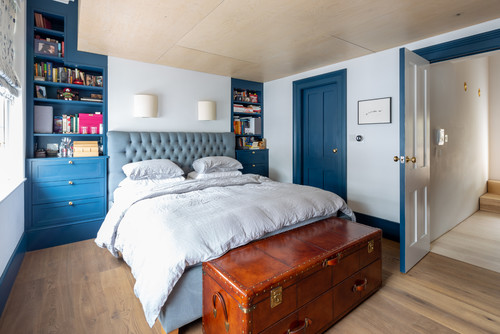 6. Find your niche

In a Victorian-style bedroom with a lack of clear wall space, consider an unconventional furniture arrangement to utilise the tricky chimney-breast area.
These built-in drawer and shelving units sit snugly in the alcoves, but protrude just far enough to provide a bedside perch. They pack a hefty storage punch for their size, and look best loaded with books.
Tip: Consider adding in power points for lighting or charging your devices.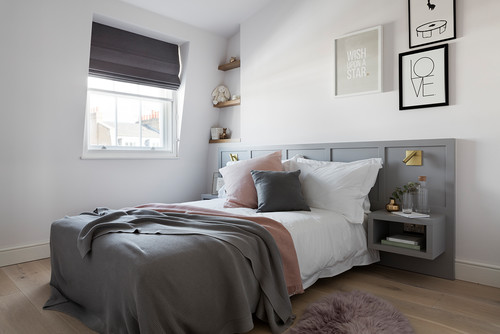 7. Add architectural flair

Marry a couple of the previous ideas – panelling and box-style shelves – for a handsome headboard with added extras. Free floorspace beneath the bedside tricks the eye into thinking the room is bigger than it is, while chunky shelves and dashing dark-grey paint give the design a timeless quality.
This idea could add character to a new build or lend personality to a blank bedroom.
Source: Laura Wheat, Houzz UK Contributor, Houzz