How To Clean A Mirror
Mirror mirror on the wall, how do I keep you clean forevermore? Here's your go-to guide on how to clean mirrors without streaks.
Fingerprints, splashed water droplets and toothpaste splotches sound harmless, yet all leave your mirror looking unsightly. Plus, the reflection creates an effect that makes the entire room appear dirty.
The good news is, with these mirror cleaning tips you can easily bring back a dazzling shine.
Did you know?
Previously, the daily newspaper used to do the trick, but nowadays the ink has changed and when used to clean, the residue leaves behind dark smudge marks. Likewise, paper towels should be avoided as they deposit little lint patches across the surface. Also, only use a dedicated glass cleaner (homemade or purchased) instead of regular household cleaners, which tend to leave a residue greasing your mirror before you've even started!
What can you use to clean mirrors?
A flat-weaved microfibre cloth. Use this instead of your usual fluffy microfibre cloth. The flat texture prevents debris clinging to the cloth, which causes the streaks. These cloths are great for cleaning all your electronic surfaces, polishing chrome and of course cleaning your glass surfaces and mirrors.
Homemade glass cleaner. Add 1-part vinegar and 1-part water solution into a spray bottle, or use your preferred purchased glass cleaner.
Rubbing alcohol (this is an ethanol-based product and undrinkable, so you'll find it in the grocery store rather than the bottle shop) and a cotton sponge.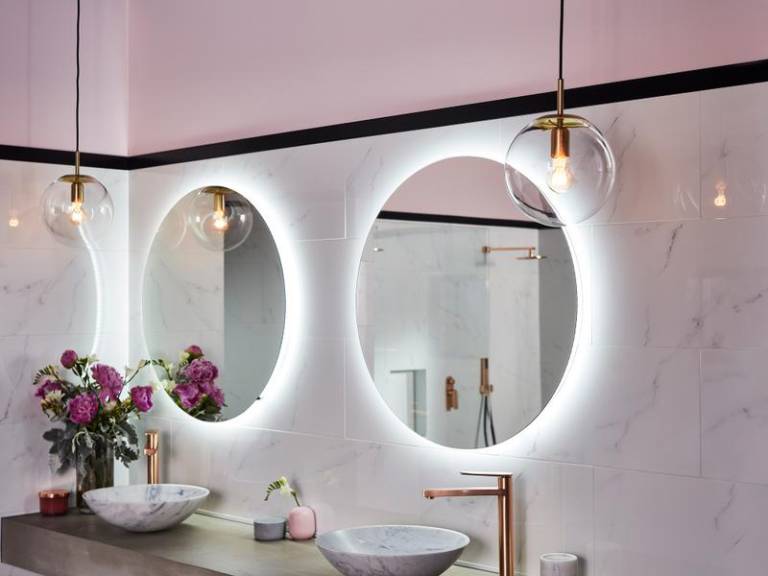 Picture: Mondella
Best way to clean mirrors in 2 minutes
Spot clean: Scan the mirror for any blobs or smears of debris such as toothpaste, fingerprints or hairspray, and with the cotton pad dabbed with some rubbing alcohol, rub over the area to remove the mark. Work fast as the product dries and evaporates quickly.
Using your glass cleaning solution, spray lightly across the entire mirror. Try not to spray too much as it's best to keep the moisture to a minimum.
Fold your flat-weaved cloth into quarters to give yourself four fresh and dry surfaces to interchange as you clean your mirror.
Start from the top left corner then work your way across the top of the mirror to the top right corner, then zig-zag down the mirror surface until you reach the opposite bottom corner.
Now stand back to inspect your mirror; do this from the side as this will help you spot any missed marks. If any are found, simply spray a little glass cleaner onto your cloth and spot clean that area.
Check out that reflective shine. You're done, and all it took was a few simple mirror cleaning tips from the experts to help get you there.
Source: Elke Keeley, Realestate.com.au
Hero image: Getty