8 Hottest Outdoor Design Trends for 2019
Summer is right around the corner – a time of year that's all about enjoying time outdoors.
Summer is right around the corner – a time of year that's all about enjoying time outdoors. Whether you have barbecues with friends and family on your mind, or chilling with a good book on a sun lounger is more your style, a great outdoor living space is a must. Three leading design figures have given a sneak peek into the hottest outdoor looks for the coming year so you can get your alfresco area summer-ready.
1.Webbing and interesting details

"In 2019, expect to see designs that draw inspiration from classics of the past, combining traditional craft with new materials and durable fabrics," says Jen Stumbles, co-owner of Eco Outdoor. These pieces are generous in proportion with either webbed detailing, sling backs or turned legs.
"Subtle details such as olefin webbing and brass brackets are some of the other new features we're seeing come through," says Stumbles.
It's all part of our changing attitude towards outdoor design, where luxurious materials and finishes that were once seen as 'indoor-only' are steadily moving outdoors, says Stumbles. "You'll find materials such as linen and brass that were once seen as strictly indoor-only, shifting outdoors too," says Stumbles.
Interior decorator and stylist Amanda Smythe of Amanda Smythe Design concurs, adding, "We are seeing less distinction between indoor and outdoor spaces. If an outdoor space is done well, it creates an additional living space for your home".
2. Mixed materials

2019 will offer up unexpected and exciting material combinations, says Rohan Smith, senior interior designer at Coco Republic. "Combinations of materials such as timber, rope, metal and upholstery are popular this year. We have an outdoor sofa that combines a powder-coated metal frame with rope detail and charcoal fabric."
"You'll also see beautifully aged materials paired with contemporary ones, such as compact laminate and powder-coated steel," says Stumbles.
"For a warm, tactile look, offset these materials with a rattan chair with fabric seating and cushions," says Smythe. "If you'll be leaving the piece exposed to the elements, it's wise to choose a highly durable fabric, such as canvas, and leave the less robust ones, such as linen, for undercover areas."
3. Low-slung seating

"We are currently seeing a big move towards low-slung sofas and seating that are built for long, lazy afternoons outdoors," says Smythe. "The look is all about comfort, with lots of cushions in contrasting patterns, textures and styles."
What makes for comfortable outdoor sofa seating really depends on the user, says Smith. "Younger people will tend towards lower, deeper seating that is more relaxed. Older buyers generally lean towards sofas with higher seating and armrests that are easier to get out of. A combination of a low, deep sofa with slightly higher armchairs is a happy medium that should keep everyone happy," he says.
4. Chunky timbers

In the coming year, expect to see chunky timber sofa frames coming through – in particular, teak, says Smythe. "These sofas are paired with coffee tables and side tables that could almost be used indoors, again blurring the lines between indoor and outdoor living. "And in dining settings we are seeing a lot of timber styles mixed with concrete or stone," says Smythe.
Tip: Teak weathers to a beautiful silvery grey over time, but if you don't like this look, you can restore most of its natural colour by cleaning it with a high-pressure water cleaner or timber cleaner, says Stumbles.
Choosing the right textures for your outdoor upholstery is key for creating a luxurious look, says Smythe. "Seek out the most durable, natural-looking fabrics you can."
5. Powder-coated aluminium
Durable, lightweight powder-coated aluminium furniture in all manner of subtle neutrals and bold brights is set to make a statement outdoors in 2019, says Smythe.
"Lightweight designs are great for small spaces such as balconies as they won't take up too much space," says Smith. Powder-coated stainless steel is also low-maintenance and rust-resistant, making it a great choice if you don't have the time for much upkeep.
6. Modular sofas

"We've seen a shift towards multi-functional and modular pieces that can adapt and grow with your changing needs," says Stumbles.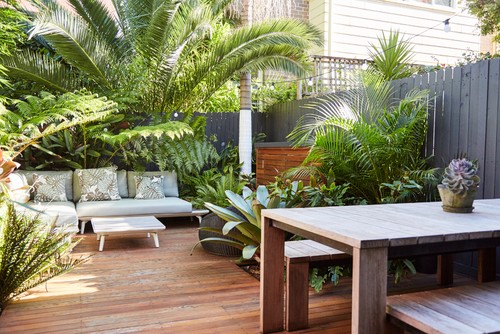 "Modular pieces are so versatile as they allow you to tailor a setting for both small and large areas and move seating around depending on how you like to entertain or use a space," says Stumbles.
7. Neutrals

"2019 will see a shift towards natural materials and colours that blend in with the outdoor environment," says Smythe. "However, our love of all things coastal isn't going anywhere and varying hues of blue will still be prevalent.
"Sofa colours will mostly be neutral with splashes of colour and texture added with scatter cushions," she says.
Neutrals are timeless, making them a great choice for those who have no plans to replace their outdoor furniture in a hurry, says Stumbles. "To make sure your furniture and soft furnishings don't date, opt for neutral fabrics and classic styles," she says. "If you then want to give them a seasonal refresh, use scatter cushions, candles and other small accessories."
8. Sumptuous outdoor fabrics

"Outdoor fabrics have come a long way," says Smith. "We have seen the introduction of outdoor sheers for outdoor curtaining and even outdoor velvets that add a touch of glamour to your alfresco area."
"Fabrics that are robust in composition and soft to touch are key for this season," says Stumbles. "We're seeing beautiful canvases with flecks of movement and soft broadcloths. Both fabrics are incredibly durable, quick-drying and can be left exposed to the elements."
Tip: Hardy, outdoor fabrics that are soft to the touch can also be a great option for high-use indoor spaces such as family rooms, says Smith.
Source: Georgia Madden, Senior Writer, Houzz
Hero image: Eco Outdoor AUS