How To Create A Small But Beautiful Ensuite
An ensuite bathroom may be considered a luxury inclusion in a floor plan, but it's become a much loved (and expected!) addition to many modern homes.
Put simply, an ensuite is a must-have; it's also an opportunity to give your average suburban home that special feeling of hotel luxe. Holiday at home, anyone?
We've come to learn a lot about maximising space throughout our nine renovations, so when space isn't on your side, we can recommend a few ways to increase the function and beauty of any room.
Nail the layout
When you're pushed for space, maximising every spare centimetre and getting the layout just right is non-negotiable. If you don't get this step sorted from the outset, you'll be bumping into things and cursing a poorly placed basin for years to come.
Having your layout drawn to scale on paper is a good start, and if you can use one of those snazzy 3D planner tools, well that's even better.
But it's actually really important to road test your proposed bathroom layout, and to do this, we recommend marking it out on the floor using masking tape and stacking boxes as your pretend vanity.
Move around inside your new layout to see if you like how it feels, and don't worry if you feel a bit silly pretending to squat on an imaginary toilet. Role-playing your new floor plan can be the difference between #nailedit and #failedit.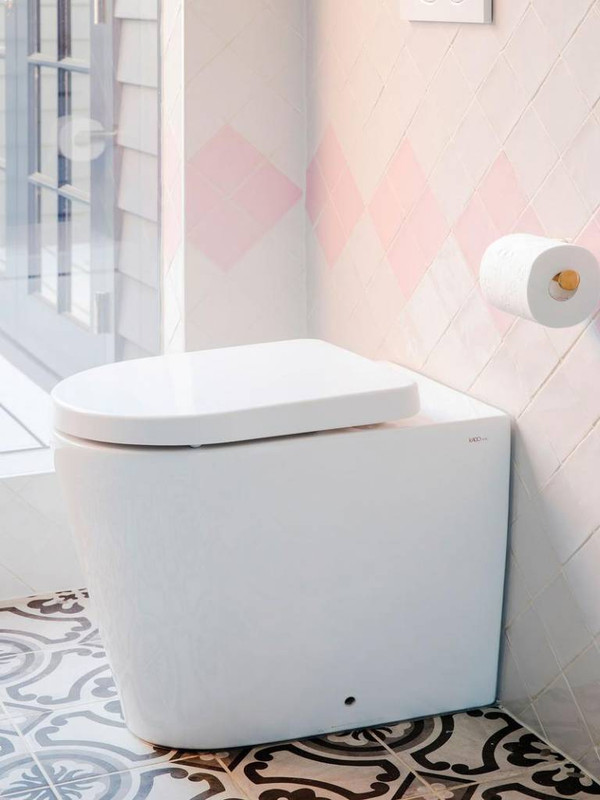 Natural light
Don't underestimate the importance of natural light in a bathroom. We're massive fans of skylights and pop them in wherever possible, but when your roofline (or your budget) doesn't allow, look for other ways to incorporate natural light, like we did in our latest ensuite with a huge wall of glass.
This super stunning picture window floods the small room with light. And you don't need to worry about anyone catching you in the buff, either – there's a motorised, retractable privacy blind hidden on the outside. You can see out, but no one can see in!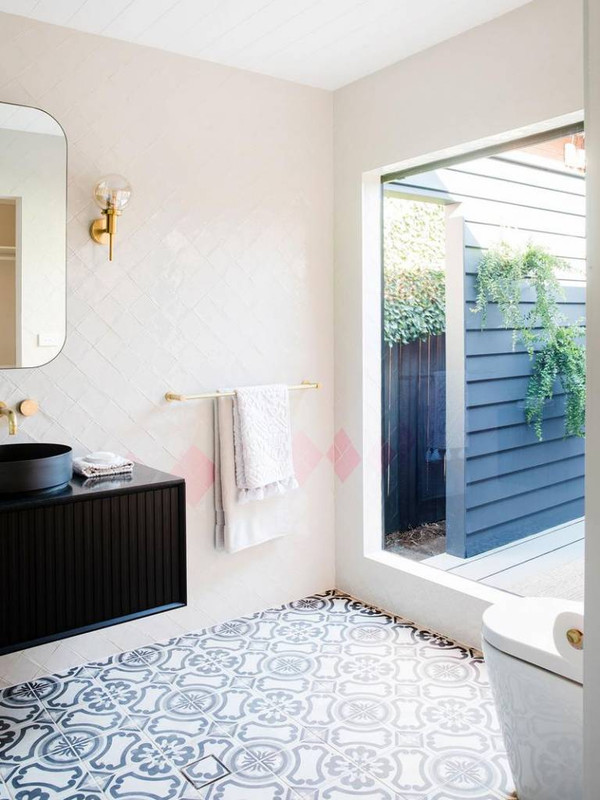 Space-saving cabinetry
Vanity storage can take up a lot of valuable space in an ensuite, so consider including a shaving cabinet which doubles as your mirror and face height storage – perfect for all those little bottles of face creams and potions we all seem to accumulate… and hardly use.
Don't forget that a wall-hung vanity also shows off more flooring than a floor-standing option, giving the illusion of a larger room.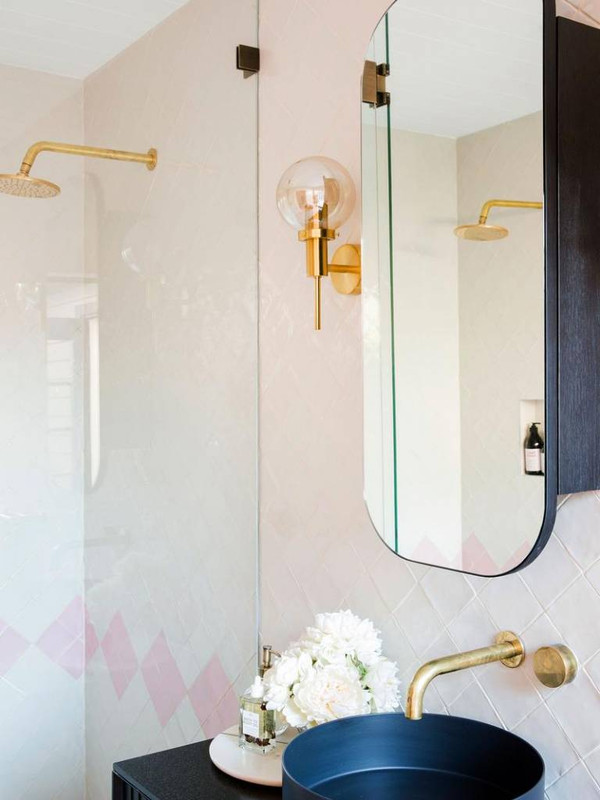 Don't ditch the double shower
Maybe you're spatially challenged, but that doesn't mean you can't enjoy the luxe effect of a double shower. The key to making this work is having a shower door which fully encloses the space.
Forget about just having two glass panels on either side as you see in many bathrooms these days, because without the door, the whole room will end up wet.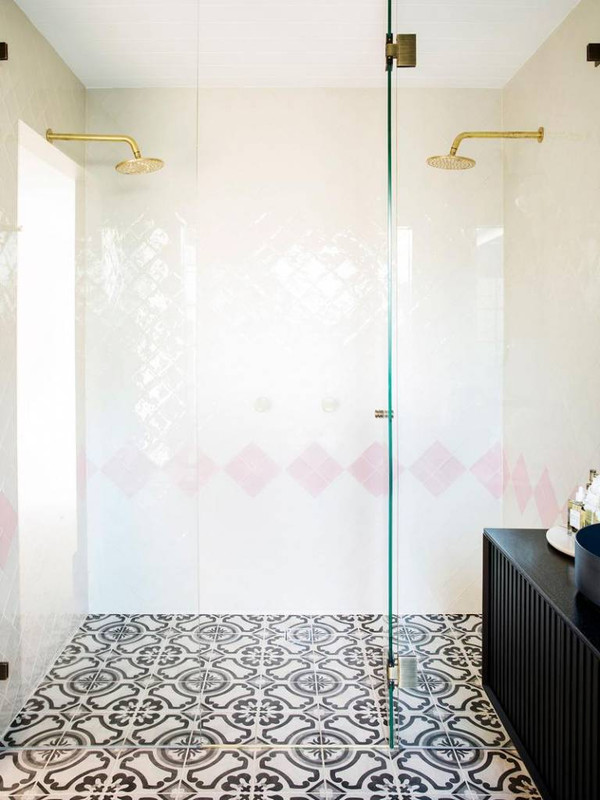 A loo with a view
Well, the view is really just a bonus in this small ensuite, but the real reason we chose this loo is the in-wall cistern which takes up less floor space and also allows the wall tiles to flow continuously around the room, making the room feel larger.
In-wall cisterns are typically more expensive than traditional wall-faced versions, but those extra dollars might just buy you that little bit of extra floor space you really need. So don't rule out this option purely based on cost.
All that glitters
A small ensuite is practically an invitation to explore beautiful extras. Because in a small room, you can actually get away with adding more design features for less.
You know those gorgeous Italian tiles you couldn't afford to tile your whole main bathroom with? Use them here!
There are so many stunning bathroom tapware options available now and these aged gold beauties not only look like jewels on the wall, but they're slimline and space-saving too.
Hot tip: Match tapware with your towel rail and toilet roll holder for consistency.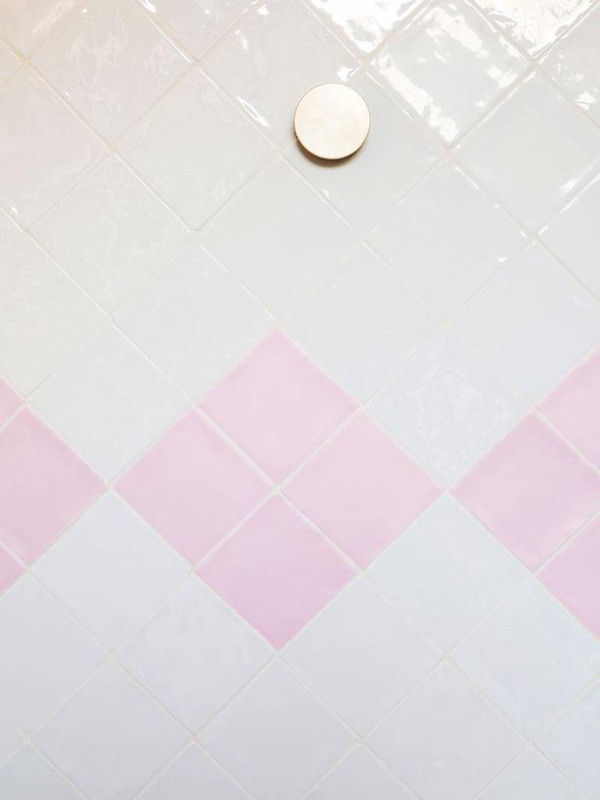 Source: Three Bird Renovations – Realestate.com.au
All pictures: Three Bird Renovations