The Art Of Choosing, Framing And Hanging Art In Your Home
Art in your home can be the beautiful icing on the perfectly styled cake.
It's a great way to inject personality into the home, and let's face it, bare walls can be rather boring. But since choosing, framing and hanging art can be an art in itself, we asked the experts to provide practical tips to help guide you.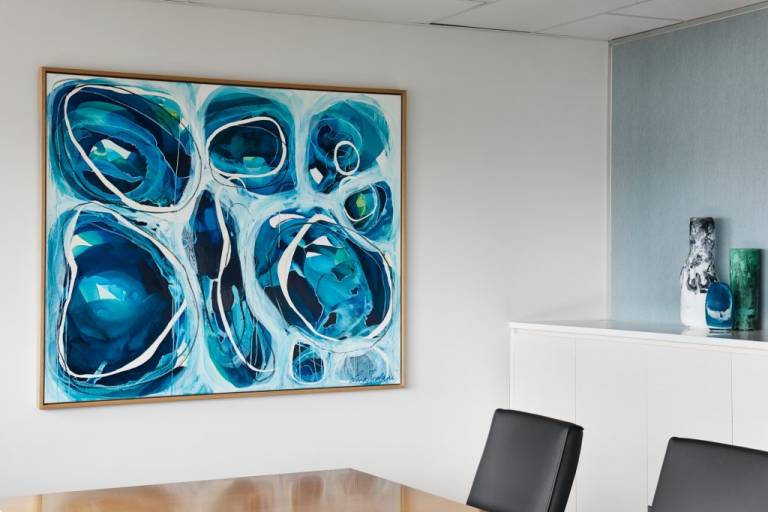 Artwork: Lara Scolari. Photo: Tamara Graham
1. Identify your theme
Art, like anything else style-related, is subjective. But since your preferred style and design theme are probably already reflected in other parts of your home, this will provide you with a clue as to what type of art you should introduce.
According to contemporary Australian visual artist Lara Scolari, a luxe modern space evokes a sense of sophistication, best suited with large-scale abstract artwork; complementing the energy and style of the room. While on the other hand, a coastal-themed home may take cues from a love of ocean hues, which would work well with drone-style photography prints of the coast.
"The most important aspect when acquiring an artwork is to ensure you yourself love the piece," says Scolari. "Artworks should speak to you emotionally and resonate with your personal style."
2. Get the size right
When it comes to hanging any form of art on your wall, size matters. Head of creative and photography for Pillow Talk Morgan Kelly says scale is the most important thing to consider when it comes to artwork.
"You don't want a tiny artwork in the middle of a large wall and you also don't want such a large piece of work that it dominates the space it is in – artworks are used to complement a space not overpower it," Kelly says. "Unless you are going to hang multiple pieces in a gallery style, I generally stay away from pieces that are smaller than 40-50cm on a large wall, as they can be easily lost, or just look unintentional. I would also suggest choosing an artwork no more than 150cm in height, due to the average wall height in our homes, as this can be very overpowering."
Photo: Dulux
3. Add design layer with paint
To take your artwork to another level, you could consider painting the wall on which the artwork will be hung. According to Dulux colour expert Andrea Lucena-Orr, selecting a background colour can add another layer of interest to your art.
"Your choice in paint colour really depends whether you are wanting the art piece to really stand out in the space, or whether you would like it to be quite harmonious in the room," says Lucena-Orr. "If you want the art to act as a hero feature, choose a paint colour that is quite dramatic, such as a deep charcoal — this can really make the colours of an artwork pop. However, if you want the art to be part of the room, without standing out too much, I suggest looking for more tonal colours, such as light earthy tones or whites."
Lucena-Orr recommends the following colours:
For a deep charcoal: Domino in Dulux Wash&Wear
For light earthy tones or whites: Natural White™ or Terrace White in Dulux Wash&Wear.
Photo: Format Framing

4. Frame it like a pro
When buying a print or piece of artwork, it's important to consider how to frame it.
Co-founder of Format Framing Chris Pennings says framing will provide the finishing touch to an artwork and make it feel polished and complete. "Investing in professional quality framing is money well spent and will really make the artwork feel like a special piece," Pennings says.
"Keep in mind the layout of the room and where you are looking to display the frame; this will help keep the entire look in mind when making your selection. Look to the overall colour tone of the artwork, for example, lighter and brighter colours can look great in white or blond timber frames, whilst moodier, more dramatic pieces will often suit a dark timber frame and provide more contrast."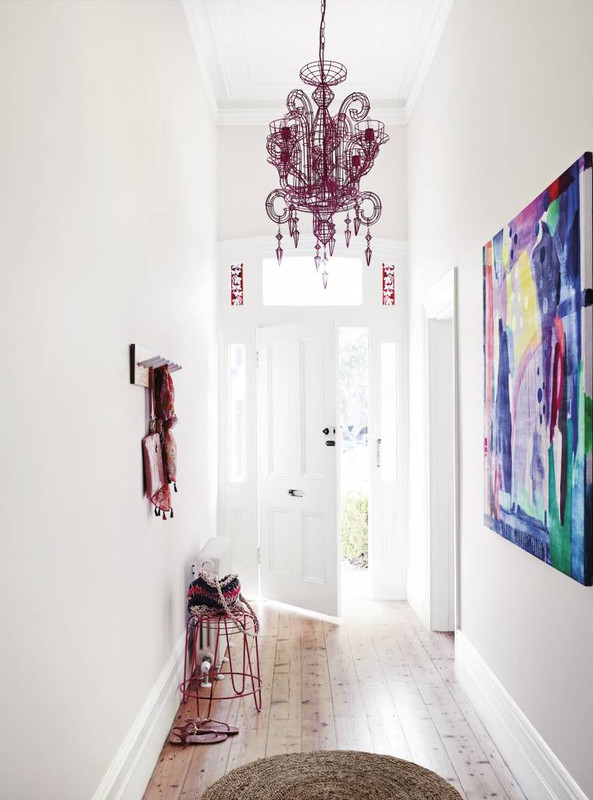 Photo: Dulux
5. Hang it up
Before you get out the hammer, take time to stand back and get a feel of where exactly you will be hanging your art, especially if you have decided on a gallery-type arrangement.
Scolari recommends using the imaginary line method when hanging art, that is, the current lines of structure already provided in the room, both vertical and horizontal, like the top of the architraves, or the line of the bench/windows. "I try to not add more visual levels of lines within the space, but work with what is already there," she says.
And when it comes to hanging a group of art together in a gallery style, Scolari suggests starting with the artwork that speaks to you the most. "Place that one first, then continue with each placement informing the next; make sure to play around and sketch out ideas before attacking your walls."
Pennings agrees. "Change things around until you're happy with the balance. Remember, it's not about entirely covering a wall, or having them being perfectly aligned, but there does need to be a balance of shapes and sizes – you will know once you have achieved this because it will appeal to the eye."
Source: Pauline Morrissey – Domain.com.au
Hero photo: Format Framing