How Do I... Paint My Bathroom Properly?
The walls of your bathroom aren't the only thing you can transform with paint, but your tub, tiles and sink too.
Fiona King, paint expert at Taubmans and White Knight, shares her top tips for giving your bathroom a professional-looking paint finish.
What type of paint do I need for a bathroom?
Unlike other rooms of the house, bathroom walls and surfaces are exposed to humidity, heat, mould, mildew and vapours. The paint you choose needs to be able to stand up to these conditions. Taubmans Endure Kitchen and Bathroom is moisture-resistant and washable, making it a good choice for bathrooms.
Do I really need to prep walls?
Absolutely. The prepping process is just as important as the painting process if you want good results. Walls need to be clean, dry and free of contamination for paint to adhere to them properly. So, start by wiping down walls with a mild detergent and then rinse clean with water.
If you're painting an old bathroom where enamel finishes were previously used on the walls, I'd recommend lightly sanding them back and applying a coat of primer to ensure that the new paint can adhere to the surface.
And don't forget to protect surrounding surfaces and fixtures when you paint; cover the floor and fixtures with drop cloths, and apply masking tape to any small fittings (such as handles) that can't be removed or that will be tricky to paint around.
What's the best way to paint?
Paint from the top down, starting from the ceiling and then moving onto the walls. Once both of these larger surfaces are completely dry, you can paint smaller surfaces, such as doors, trims and window frames.
Tip: Stir the paint in the tin for at least five minutes before you start painting. This will ensure that colour tints are dispersed evenly and will give you a clean, level coat.
Should I use rollers or brushes?
You'll need both as they do different things. An angled paint brush is far more precise than a roller and will allow you to get right to the edges of walls. A roller, on the other hand, will allow you to quickly cover larger areas, and will give you a more even finish than a traditional brush.
What mistake do people often make?
Forgetting to ventilate the bathroom. Most water-based paints will need a minimum of two days to dry. Having a well-ventilated bathroom with a powerful exhaust fan will help the paint cure faster, and will also prevent mould forming down the track.
How long will it take to dry?
When painting walls and ceilings, two coats of paint are recommended. The initial coat normally dries in 30 minutes, but you should leave at least two hours before painting the second coat.
As for how long before you can actually start using the space again, as a guide I'd allow two days before re-exposing painted surfaces to moisture.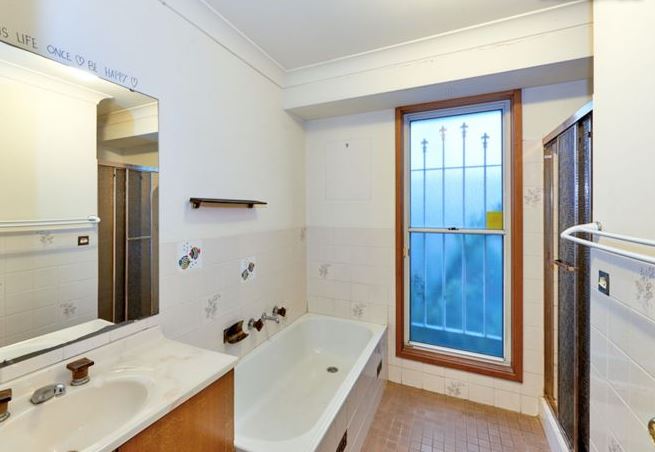 Image: White Knight before
Is there anything else I can paint in my bathroom?
Yes – you can give your bathtub, sink, wall tiles, and laminate and melamine surfaces a new look with White Knight's specialty Kitchen and Bathroom paint range. Choose from white or a custom colour.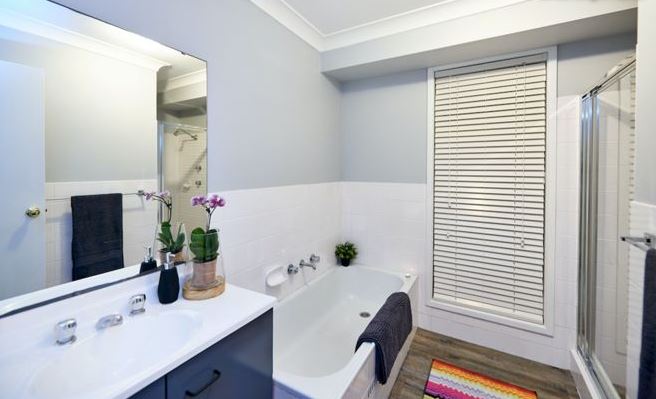 Image: White Knight after
How do I prep these elements?
Prep surfaces with a suitable primer and cleaner first in order to remove soap scum and grease, and so that paint has a suitable surface to adhere to.
For best results it is recommended you:
Give laminate or melamine surfaces a light sand before priming.
Use a mini microfibre roller to apply paint to bathroom tiles. Use a brush to get into corners.
Apply paint to tiles in a thin, zigzag pattern, working a few tiles at a time.
How long does it take to dry?
Your tub, sink, tiles and surfaces will be touch dry in two hours, fully dry in eight hours, and fully cured in about a week. Avoid deep cleaning or giving surfaces any hard knocks during this time.
Source: Georgia Madden, Senior Writer, Houzz Australia, Houzz