How Do I... Create A Cosy Outdoor Room For Winter
Don't let the chill put you off entertaining outside – here's how to cosy up your alfresco space for the winter months.
Here, interior stylist Emma Bloomfield shares her top tips for turning your garden or outdoor area into an inviting entertaining space during the cooler months.
In many parts of Australia, we're lucky enough to enjoy about nine months of mild weather a year, which means we get a lot more use from our outdoor areas than those living in the northern hemisphere.
Here's how to make your alfresco area an appealing spot for entertaining – or just relaxing at the end of a busy day – year- round.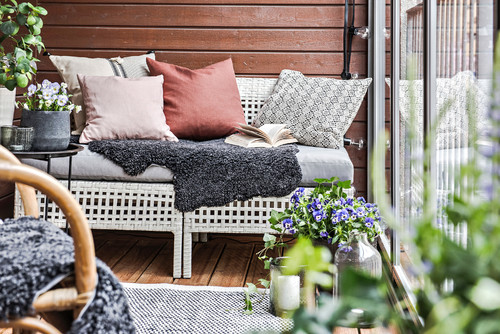 Think about how you want to use your outdoor space
Start by asking yourself the right questions, such as:
Is there enough seating? A single sofa generally won't be enough for entertaining. Look to add a second sofa or, if space is tight, consider adding in a couple of armchairs.
Do you need to fit in a dining table? If your outdoor area is small, consider a folding table that can be tucked away when not in use, or choose one that flips down from the wall and folds away flat. Alternatively, look to dine casually on the sofas (be sure to add in a coffee table so you've got somewhere to pop dinnerware and glasses).
Is your outdoor area heated adequately? There's nothing worse than feeling chilled to the bone outdoors. Adding in an outdoor heater will mean that you and your guests can relax comfortably whatever the temperature.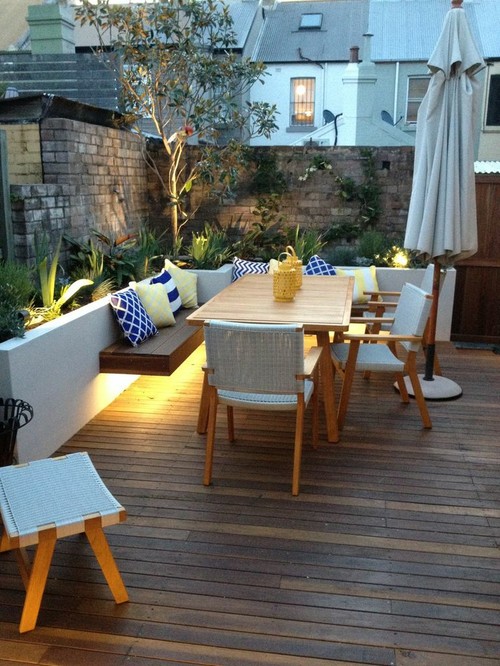 Choose comfortable and durable furniture
You'll want sofas and armchairs to be comfortable and inviting, but they should also be up to the demands of an outdoor space. For your outdoor sofa, seek out a comfortable style that is upholstered in a hardy outdoor fabric, and make sure seating includes weatherproof inserts.
Comfort is also the key when you're selecting outdoor dining chairs, particularly if you want guests to relax at the table long after the meal is done. Timber chairs with upholstered seat cushions are my preferred choice for outdoor dining. For extra comfort, look for chairs with armrests, but be aware they can take up more space than ones without armrests.
When it comes to outdoor dining table materials, I prefer timber or stone, or a combination of the two. These materials are natural, durable and will stand the test of time.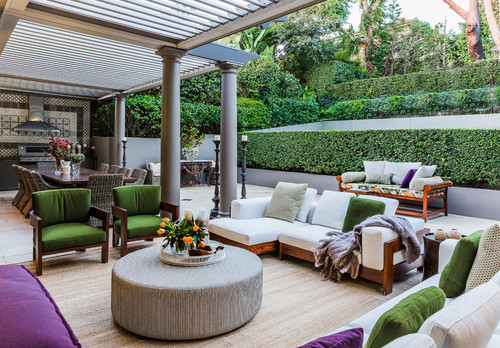 Add in cosy textures
Dress up sofas and armchairs for the winter months with cosy cushions, throws and blankets. Texture is the key – look for soft, tactile fabrics that you'll want to snuggle up with.
Dial the cosiness factor up further by adding an outdoor rug underfoot. It adds instant warmth and can be a great way to zone off a space. Look for a hardy, easy-to-clean variety that can simply be hosed down when dirty.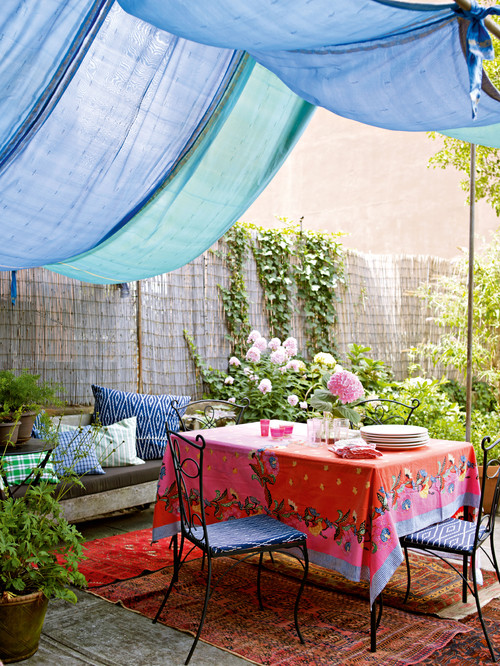 Make sure it's sheltered
Sheltering your outdoor space means that you and your guests can enjoy time outside without worrying about the chilly seasonal winds. There are several ways you can shelter your outdoor area – choose between plantings, timber screens (also great for climbing plants), and patio blinds, which can be used in winter and then rolled up and out of sight in summer.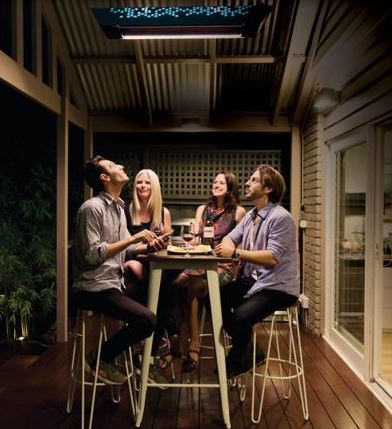 Image: IXL Heating Fresco Aurora Heater
Heat it properly
Decent heating can be the making of your outdoor entertaining area, ensuring it's a truly cosy and inviting space to spend time. There are a number of options to choose from, including portable gas heaters and outdoor fireplaces. But we're seeing a growing number of electrical solutions too, which are great for small spaces as they can be mounted on the wall or ceiling, and there are no gas bottles to replace.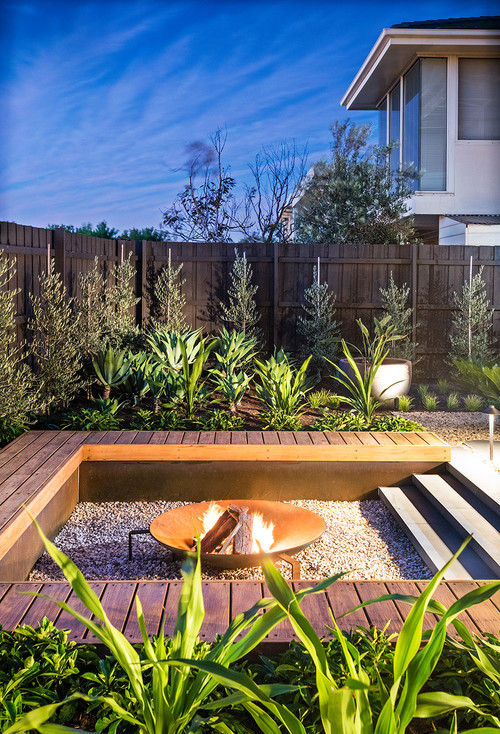 Consider a fire pit
If you have a large, open or semi-open outdoor space with turf, where an open flame wouldn't pose a safety hazard, consider adding in a fire pit. It's great for creating a cosy atmosphere in winter and some models can be used for barbecuing too – perfect for entertaining.
If you plan on placing a fire pit on tiles or concrete, you'll need to add in a protective surface beneath it to prevent heat damage to the flooring.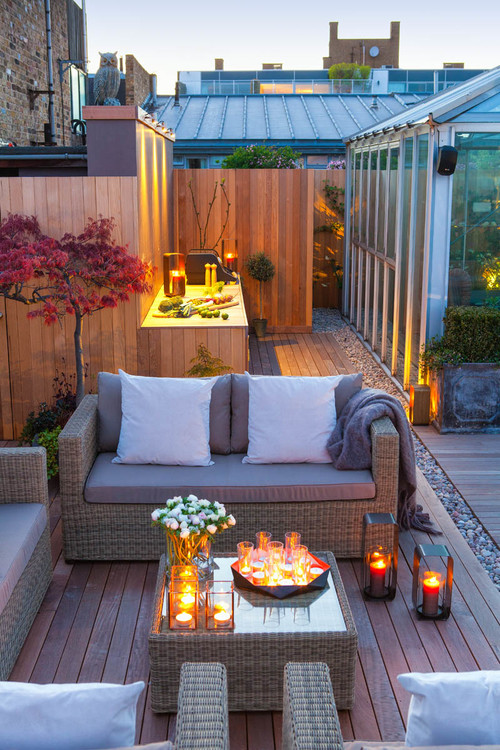 Don't forget lighting
Avoid harsh lighting such as spotlights in your outdoor entertaining space, and opt for warm lighting solutions instead. Think up-lights dotted between plants that wash walls and fences with a soft glow of light, fairy lights strung between the trees, and a stylish outdoor pendant or central light above the dining table.
Source: Georgia Madden, Senior Writer, Houzz Australia, Houzz