How To Remove Pet Hair From Your Home
Cats and dogs are a big part of the family, and bring lots of love (and cuddles) but also leave a ton of hair throughout the home.
To avoid a pet hair explosion, the below tips are paws down the easiest way to remove fur from your furniture, floors, and, of course, your clothes.
Clean the floors
The most effective method to keep your floors fluff-free is to vacuum at least once a week. Alternatively, a robotic vacuum is the way forward for managing pet hair so you don't have to.
Removing pet hair from wood and tiles:

An electrostatic dust mop, such as a Swiffer, will attack and capture the hair instantly. You can even use a microfibre cloth wrapped around your regular mop to achieve that electrostatic power. Make sure to keep the head dry, and run the mop slowly over the floors working in a "w" motion so as not to miss a spot.

Removing pet hair from carpets:

Dust some baking soda over the carpets prior to vacuuming to loosen the hair from the carpet fibres. This also gives your floors a fresh deodorisation and you'll be surprised by the amount of hair lifted when vacuuming. If you notice your corners and edges are darker, this is likely caused by a fur build up. Take a rubber glove, wet it and then with your pointer finger run along the edge.
Wood and glass surfaces
Removing pet hair from those special nooks, such as window sills where your cat loves to perch in the sun, is simple. Take a microfibre cloth and lightly spritz with water. Only spray as if putting on perfume, because a damp cloth will leave ugly streak marks and a trail of hair behind. Gently wipe the area with the cloth and shake it clean (outside) before starting another area.
Upholstery
A lint remover can be purchased from Ikea or most grocery stores, and is a handy tool to keep in your travel bag or top drawer. Simply peel off the old paper to reveal a fresh sticky sheet then roll over any material surface. Alternatively, you can use a window squeegee or rubber thong (yep the good old Havaianas!), to drag across the material to scoop up the fur.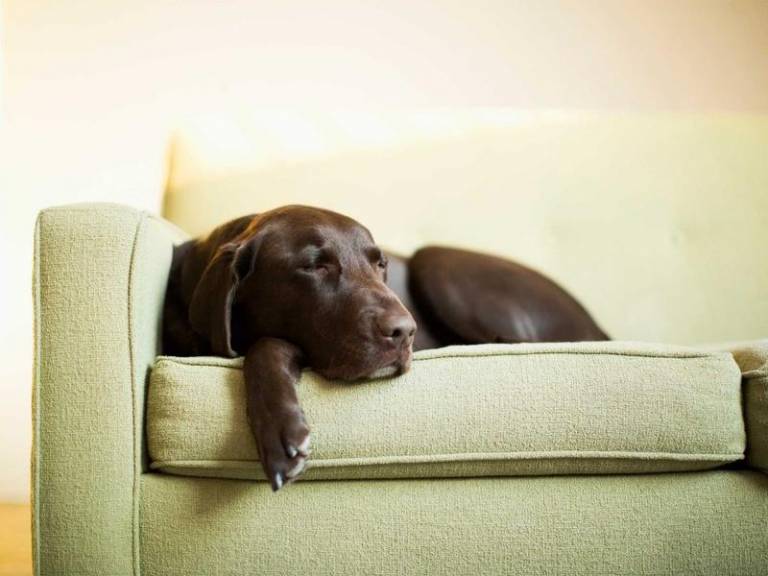 Picture: Getty
Blankets and garments
If your pet has a favourite spot to chill, throw a washable blanket over the area. This will make cleaning super easy and you can whip it off when visitors drop by. Throw the blanket into a regular wool-wash cycle, and add half a cup of white vinegar to help relax the fibres and loosen any extra hair. Once the blanket is dry, place in the dryer for 10 minutes on a non-heat cycle. Any excess hair will be pulled and captured by the lint catcher. The same process can be easily followed to de-fluff your garments.
Some people recommend calling in the professionals at least twice a year to give your surfaces and carpets a deep seasonal refresh. Also be sure to clean out your air ducts annually as they draw in hair and redistribute the particles back into the air.
With these quick and easy tips, you can now make peace with the pet hair and enjoy your favourite fluffy friend all year round.
Source: Elke Keeley, Realestate.com.au
Hero image: Getty