Your Guide To Functional & On-Trend Outdoor Lighting
What could be better than spending a relaxed evening with friends and family in your own outdoor space?
Not only does outdoor lighting make your outdoor space last longer into the night, but it can also help create the perfect atmosphere for entertaining through the seasons by bringing your garden to life at night.
We can all picture in our heads those mood-setting outdoor lighting features but it can seem overwhelming to put into practice in your own home. The good news is figuring out a lighting plan is a super easy task to manage once you get a feel for what outdoor lighting is available.
Firstly, do you decide whether to go with solar or hardwired? Should you opt for lots of small sensor lights or bigger wall lights to make a statement?
Amander Flaherty, garden lighting expert, has shared her top tips on ways to light up your outdoor areas.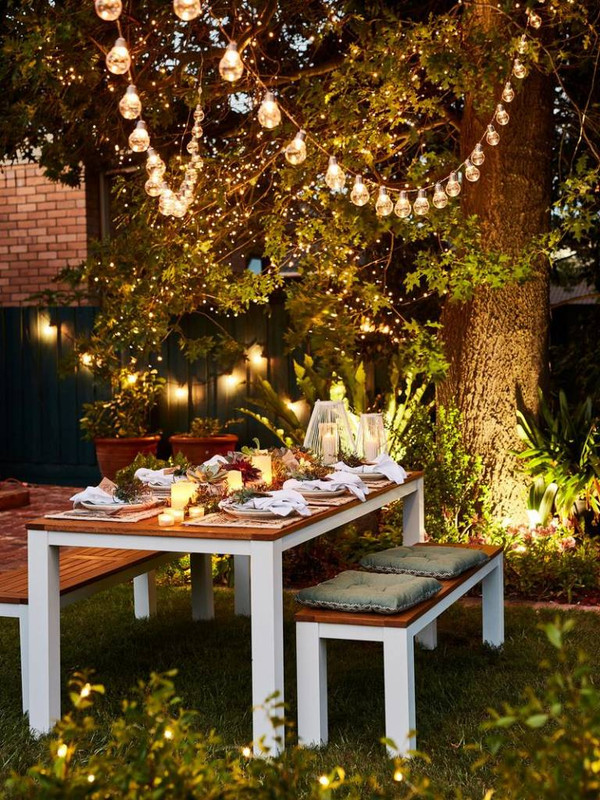 Which spaces should I concentrate on with my lighting?
Amander says almost any outdoor space can be transformed with lighting, it just depends on the look you're after.
But don't be limited to just popping a floodlight in the outdoor setting.
Outdoor lights can be used for so much more than just lighting up a dark area: They can create a party atmosphere, change the mood of a space, provide security to your home – and they give you the chance to completely transform how an area appears at night.
Objects and areas you should consider lighting:
Add interest to your garden by lighting up a beautiful tree with a spotlight or floodlight
Fairy lights in a tree or across a balcony can help to create a party atmosphere
Highlight a backyard sculpture by adding a spotlight
Add a sense of security by lighting up a garage or entry to make it appear as though somebody is home and make it easier and safer to approach your front door on late nights
Light up a path or steps with bollards or path lighting
Task lighting for barbecue areas to make things easier for keen barbecue cooks year-long
How do I decide between solar lights and hardwired?
Depending on the look you're trying to achieve with your lighting, solar lights can work instead of hardwired, but it's best to keep in mind how much sun the solar lights are going to have access to.
Amander explains, "If all you want is a bit of light across a path and you like the look of the solar light, then they can work well."
"But if you want more control over their brightness and optics then it's best to go hardwired." However, if you are considering hardwiring, it will need to be installed by a licensed electrician.
Solar lighting can be a great affordable solution to get the look you're after and serve the function you need – whether that's lighting up a deck, guiding a garden path or adding a decorative element to outdoor living or dining areas.
What's the best way to create a festive atmosphere with lighting?
If you're planning a party outdoors then lights should be a key consideration.
Creating mood and showing off the little vistas in your backyard space will wow your guests and create focal points in and around where they can gather.
"Use lights to create an atmosphere around the areas you want to draw your guests to," Amander explains, "whether that be a seating area around a tree, or an outdoor dining setting next to the barbecue."
And don't forget to get an electrician in to install convenient controls and weatherproof power points, she adds.
"Have weatherproof power points at numerous locations where festoon, coloured, image-throwing lights can be plugged in to create a themed atmosphere for parties."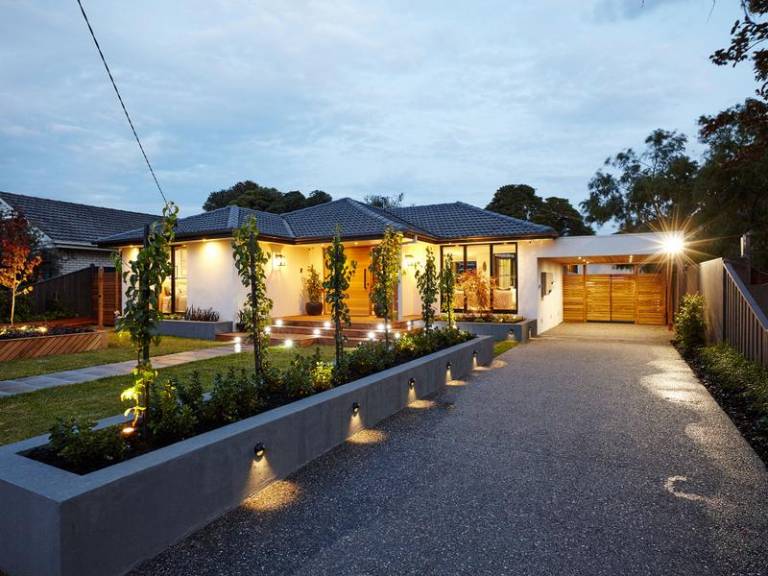 A well-lit outdoor area is a secure one
Along with elevating your outdoor entertaining and making your garden liveable and inviting into the night, outdoor lighting can also act as added security for your home.
LED motion sensor lights that turn on when they detect someone passing through can be a deterrent for burglars in secluded pathways, patios and driveways.
Sensor lights can also make you feel welcomed and safe if arriving home late at night, making sure you're pathway is well-lit from your driveway to your front door.
New outdoor lighting options…
We've all heard of the benefits of using the power-saving LED lights inside the home but Amander is excited and inspired by the options LEDs hold for exterior lighting:
"LED neon strip is coming of age, allowing new creations with its flexibility and visually no-dot look," she says.
"Think lights that highlight certain garden features, but are in themselves a unique design element."
Source: Bunnings - Realestate.com.au
All images: Bunnings