5 Jobs Around The Home To Tackle In Autumn
By breaking down household jobs into weekly or monthly tasks, they won't seem quite so daunting.
In April, tick off the following five jobs to make your household more functional and efficient without compromising on style. Nearly all these jobs can be undertaken on your own, without the help of a professional.
1. Make an entrance

The entrance hallway is the gateway to the rest of your home, and as first impressions count, make sure yours reflects your household habits as much as your decorating style.
Clear the area of any dump-it-at-the-door storage ideas you've put in place for kids or yourself through the warmer months, when a practical approach kept the mess (generated by a high level of outdoor activity) at a manageable level.
As your indoor-outdoor lifestyle quietens down, style the entryway up to look warm and inviting. Don't overdo it. Too much clutter will hinder functionality. At the very least, hang some art and consider adding a mirror to brighten the room and give the illusion of space.
A well-planned, adjustable lighting scheme will enhance the area and create a welcoming vibe. And, if you have the room, a side table with trays, bowls or baskets for keys and other knick knacks can be both pretty and useful. Then add a vase of flowers or a pretty pot plant to complete the look.
Be prepared for dropping temperatures and rainy weather by installing some wall hooks for coats, hats and umbrellas and adding a basket for shoes.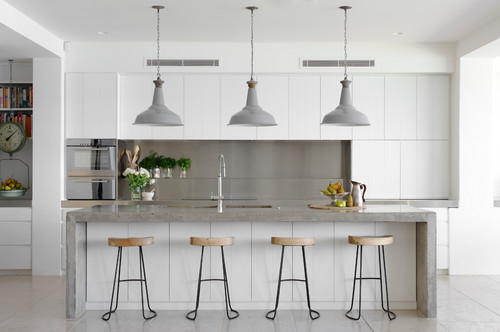 Photo by Walter Barda Design
2. Clear the bench

The kitchen is the room that records the highest traffic in a house. As a result, benchtops often become natural dumping spots for bits and pieces as family members and housemates pass through. Bring some calm and order to the space this month by removing and relocating things that don't belong. Once that's done, wash the kitchen down and return those few items that really deserve a spot on the bench.
In a perfect world, the kitchen benchtop should only require two to three minutes to clear down. Make sure you spend these few minutes each day to keep the clutter at bay.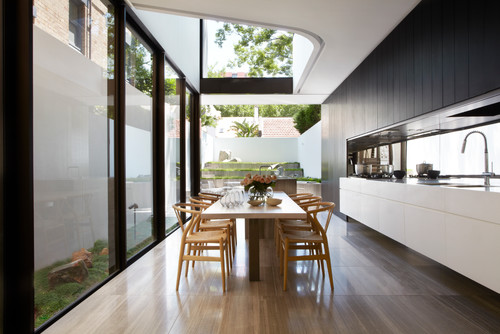 Photo by Smart Design Studio
3. Deep clean timber floors

Sadly, regular mopping of hardwood floors won't remove ground-in dirt, grease and grime, so once in a while give your floors a deep clean. Start by spot cleaning with a soft cloth and dishwashing detergent. For more stubborn stains, use a fine steel wool followed by floor wax.
It's really important not to allow water to puddle on the floor when washing it. Dilute the cleaning solution, saturate the mop and then wring it until it is just damp to the touch. Rinse the floor with a clean mop, dampened in clear water, and then wipe up any excess water with an old, clean towel. Open the doors and windows and operate a ceiling fan to speed up the drying process.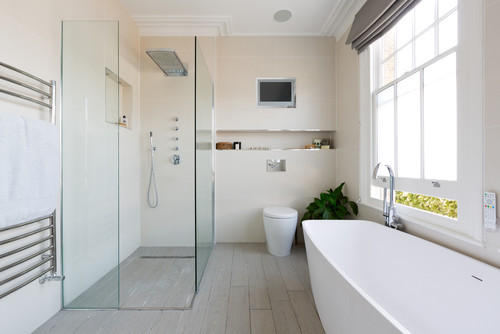 Photo by Granit
4. Clean bathroom exhaust fans

This must be one of the more overlooked jobs in the house, yet one of the more important. Bathroom exhaust fans draw up a tonne of airborne particles that linger on the blades, vents and filters. Keeping them clean reduces the build up of mould and mildew. Remove the cover and soak it in a tub of warm water and detergent. Remove the dust from the motor and other nooks and crannies with a stiff, clean paintbrush or old toothbrush, and suck up the debris with a vacuum. Wipe the lot down with a damp cloth and leave to dry.
TIP: Do this job twice a year, at the beginning and end of the spring/summer months.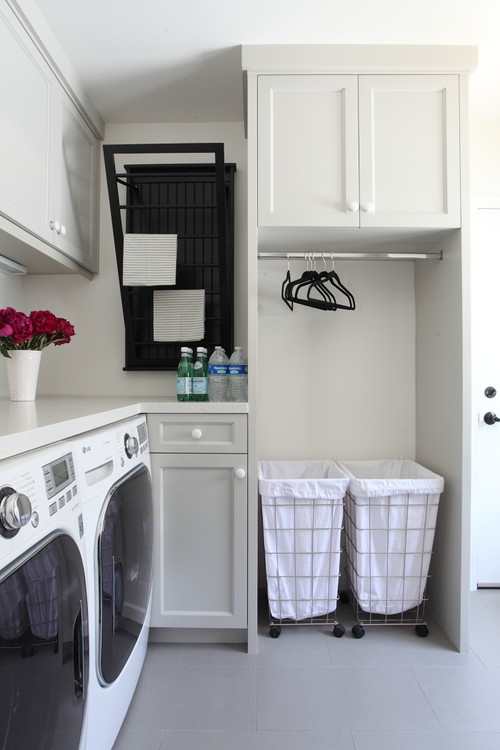 Photo by Von Fitz Design
5. Organise laundry essentials

April is a good month in which to get a laundry space under control, as the temperatures are reasonable enough to work in – especially if you have a bit of handyman work to do.
Storage is the key to a well-organised laundry, so make the most of the walls and ceiling by putting up shelves and even a drying rack that pulls out of the wall, or is suspended from the ceiling on a pulley system. Be practical and rearrange your products and supplies according to how often you use them. Consider having a "washed and folded" basket for each person, so that they become responsible for returning their own laundered clothes and things to their rooms.
Source: Robin Braithwaite, Houzz/Domain.com.au
Hero image: Colin Cadle Photography