Pillow Talk: How Many Pillows Should You Have on Your Bed?
An expert breaks down the types of bedroom pillows to help you create your cosiest bed ever.
Some people believe there are two types of people in the world: those who love an abundance of pillows on the bed and those who don't like any at all. It may interest you to know that not all pillows are fluff. Sure, decorative pillows are the simplest way to elevate your bedroom from utilitarian to chic, and considering that you're in your bedroom more than 3,000 hours a year, it's important to love your surroundings. But some decorative pillows are actually quite versatile and not only enhance the look and style of the bed, but also serve a practical purpose.
So how many pillows do you need on a bed? And how should they be arranged? Don't let yourself get overwhelmed; let's break it down, pillow by pillow.
3 Types of Pillows for Your Bed
1. Sleeping pillows

Let's start with the basics: your sleeping pillows. No matter what your decor style, the one pillow that's essential for every bed is the sleeping pillow. Most people have at least two on the bed, and if you're a couple, you may have four.
Standard sleeping pillows are typically 50 x 75 centimetres, but you can also get king-size pillows at 53 x 89 centimetres, and European pillows that are 65 x 65 centimetre squares. In addition to your pillowcases, we strongly recommend pillow protectors for your sleeping pillows. They not only protect against dust mites, but also prolong the pillows' life span. Sleeping pillows often get stained with your natural body oils, not to mention leftover make-up and drool (yes, it happens to the best of us), so a good protector is a must.
Pro tip: Just because these pillows are for sleeping, they needn't be boring. You can liven things up with a colourful edge or luxe embroidered detail.
2. Decorative pillows

Ever wonder why beds in home decor magazines always look so amazing? The answer: European pillows, mentioned previously. They're called this because the big squares have their roots in Europe as sleeping pillows.
The Euro is the ultimate mix of function and fashion. Practically speaking, it provides back support when you're sitting up in bed reading (or watching Netflix). It also protects your bedhead, creating a barrier between it and the natural oils from your face and body. And if you don't have a bedhead, Euro pillows are a perfect stand-in.
From a design perspective, their large scale helps create a sense of height for your bed, drawing the eye upward and around the room. They also completely cover rumpled, slept-on pillowcases.
We recommend one Euro pillow on a single bed, two on a double or queen-size bed and three on a king-size bed. Euro pillows are covered in pillow shams rather than pillowcases. Pillowcases are open-ended sleeves that you sleep on, whereas pillow shams cover decorative pillows. They usually have a flange or pretty detail, and we don't recommend sleeping on them.
There are other sizes of decorative pillows, which are the same as the sleeping pillows. For those of you who don't like the big square Euros, a set of decorative pillows is a great alternative. These would typically be covered in shams to match or coordinate with your doona cover or comforter. These pillows not only enhance the beauty of the bed, but they're also quite practical, as they provide great support while sitting up.
3. Accent pillows

While all the pillows mentioned so far have practical uses, the accent pillows are all about fun and personality. Think of them as the jewellery of your bed. If your bed is as neutral and timeless as a little black dress, accent pillows can be the statement necklace or trendy earrings that you can switch in and out with abandon.
I typically change my accent pillows with the seasons, playing with different textures, patterns, colours and scale. The options are limitless: bold colours, faux fur, monogram or treasures from exotic travel.
3 Ways to Arrange Your Pillows
Now that you know the types of pillows available to you, you can start decorating your bed with them. Here are some tips to help you figure out how you want to style your pillows.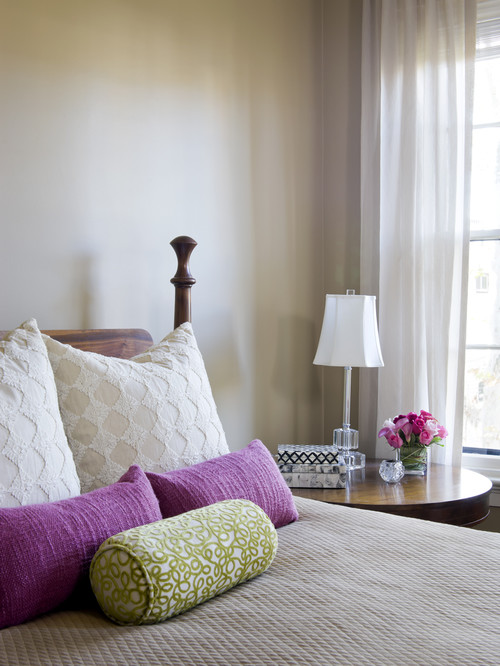 Photo by LDa Architecture & Interiors - Search bedroom design ideas
1. Classic/traditional

A classic-style bed will usually have the greatest number of decorative pillows. If you like a more romantic look, you can pretty much add as many as will fit.
For something a little more tailored and gender-neutral, we love keeping things symmetrical: the sleeping pillows hidden behind one set of decorative pillows (either standard, king or Euro) with either two smaller squares (45 x 45 centimetres or 50 x 50 centimetres) in front or one lumbar centred at the front.
2. Minimalist

This is a great option if you're into a sleek, modern hotel look that's super sophisticated without any fuss.
Instead of propping up the pillows, lay them flat and stack them on top of each other – sleeping pillows on the bottom and two same-size decorative pillows on top. Not much else is needed to complete the look, though you can always add a simple lumbar in the centre.
3. Boho

There's a trend these days toward a more boho-chic look. I see it almost everywhere I look for design inspiration. It's simple to do: just layer pillows in different shapes, sizes, patterns, textures and colours for a playful look. It's fun and effortless and shows that you don't take yourself too seriously.
Last but not least, the question I get most often is, "Where do I put the pillows when I go to bed?" The answer? Wherever they land when you toss them. Whether that's bench, chair or floor, don't worry. They're just pillows after all.
Source: Joanna Goodman, Houzz Contributor, Houzz