7 Ideas for What to Put Behind Your Bed
Try these design moves to add interest, comfort and a bit of fun to your bedroom.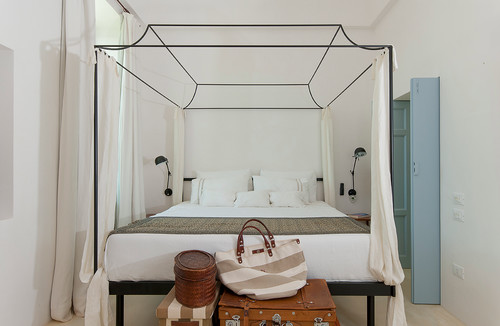 1. Short bedhead + blank wall + iron canopy frame

A classic and fresh approach to arranging your sleeping area is to embrace a short, unassuming bedhead and a plain white wall. Teamed with crisp white linen, they make for a casual and relaxing look. For a touch of interest and sophistication, consider an iron canopy with its dramatic black lines. Here, with the symmetry of the wall-mounted sconces, the lines look like a masterful drawing on a piece of white paper.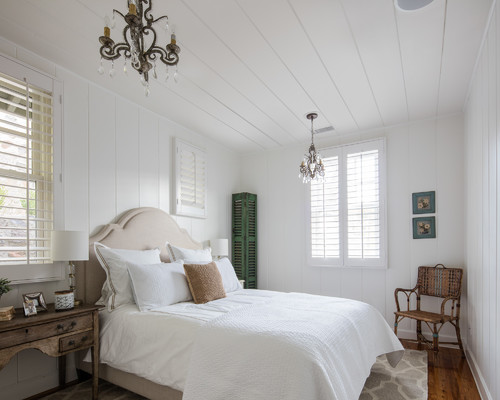 2. Upholstered bedhead + wood-panelled wall

Taking the previous example a step further, a more ornate upholstered bedhead makes a more robust statement. And the spaces between the timber panels bring a bit more texture to the blank wall. Here, two chandeliers cut striking silhouettes against the serene backdrop.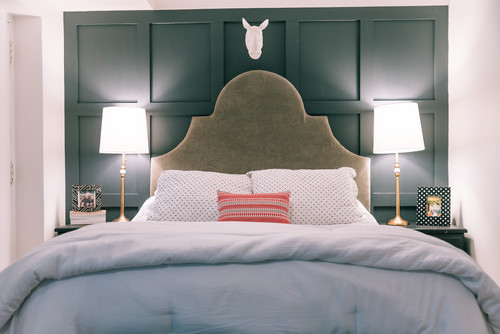 3. Upholstered bedhead + painted wood panel + sculpture

For a more dramatic look, consider an upholstered bedhead in an exaggerated shape against a panelled timber piece that's painted a deep, moody colour. By using vertical space, you can really bring a lot of dimension to a small bedroom. A small animal sculpture in a contrasting colour will bring a bit of whimsy to tamp down the drama if needed.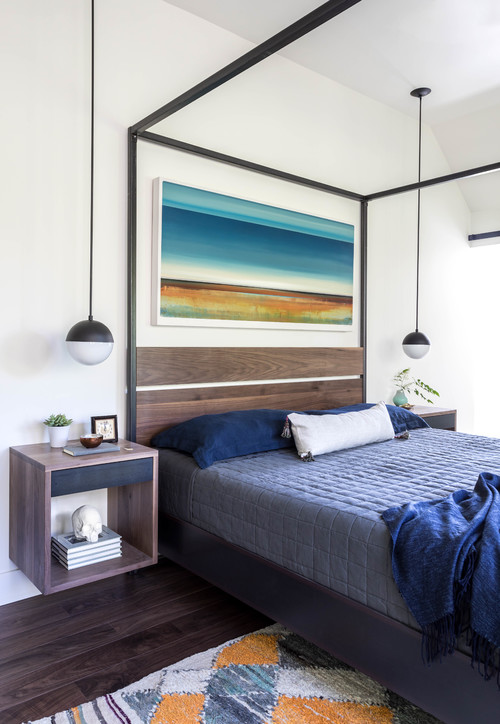 4. Wooden bedhead + artwork + metal canopy frame

This bedroom offers a more contemporary, colourful take on the style of the first bedroom shown in this article. The designer took advantage of the dramatic lines of the metal canopy frame against the white backdrop, but then turned things up a bit with the colourful abstract painting. A walnut bedhead keeps things streamlined while adding warmth, and two bedside pendant lights add more contrasting lines and shapes.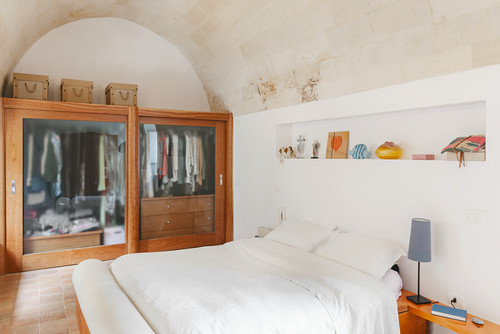 5. Display niche

Here's a great solution if you need more storage in your bedroom and you're not sure about what you want to hang above your bed just yet. A niche provides storage and display space, where you can swap out decor items to add or take away colour and texture. If you're tired of the niche or fancy a different approach, you can always cover it up with a bedhead or piece of art.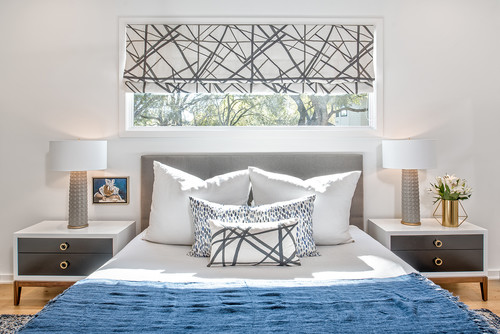 6. Patterned window treatment

If you have a window above your bed, your options aren't entirely limited. Coordinating a window shade and a pillowcase in a fun pattern can bring stronger design results than you might think.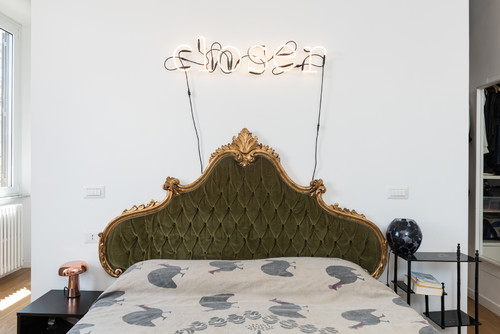 7. Whimsical bedhead + neon sign

For some people, ending and starting the day with a sense of playfulness is all that matters. If that's the case for you, look for a styled upholstered bedhead that makes a statement. Then consider a neon sign spelling out a word or phrase that's dear to your heart.
Source: Mitchell Parker, Houzz