From Door to Hall - The Key Ingredients of a Great Entrance
A fabulous entrance balances personality with practicality – here's the recipe for how you can achieve it.
We all know the best stories are the ones that start well, and our homes are no different. Your entryway is the first thing guests see when they enter your home, and reveal a hint about the decorative delights that are yet to come. Whatever your style, all successful entrances start with good foundations – here are the ones you need to know about.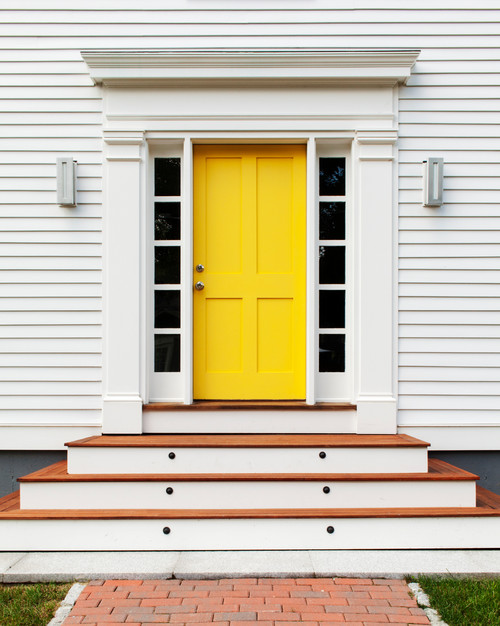 A fabulous front door
The first step to a show-stopping entryway starts with your front door. If your front door is looking a little worse for wear, consider freshening it up with a coat of paint. With a bit of commitment, you can take your front door from drab to fab in a weekend.
When it comes to colour, select one that suits not just your personal style, but the character of your home. Bold brights can make the biggest statement. A zesty yellow such as this one will make a neutral exterior pop. Other appealing, dramatic hues include fire-engine red, soothing jade green and glossy black.
But bold colour is not the only way to create wow factor. Carefully considered features in sumptuous materials, such as a stunning timber pivot door, simple planter and built-in doormat, create impact while maintaining a subtle, low-key vibe. You can also use textural contrast to draw the eye; here, combine slatted timber cladding, a sleek glass door and simple planting to create a warm and appealing entrance.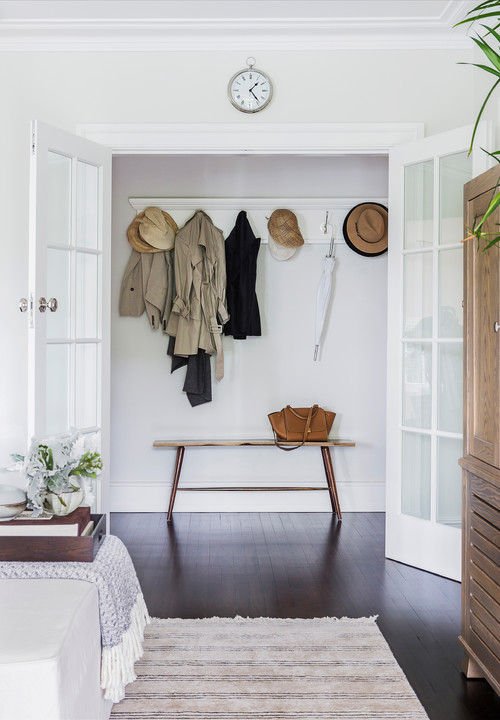 Hard-wearing flooring
Whether you operate a shoes-off-at-the-door-policy or not, flooring in your entryway should be hardy and low-maintenance. Timber, tile, vinyl, concrete and laminate flooring are all smart choices for this spot; they're easy to clean and will withstand heavy foot traffic.
Tip: While undeniably stunning, darker floors tend to show more dirt and dust than paler ones, so be prepared for more regular vacuuming.
If you yearn for something softer underfoot in your entryway, a runner can be a great addition. Style-wise, a traditional design in soft, muted colours would work well in a classic home, while a contemporary interior gives you free license to have fun with colour and pattern – think bold stripes or a bright, artisan runner. If your entryway leads onto a very long hallway, don't be afraid to use more than one runner or rug.
Tip: Extend the life of your runner by rotating it every so often to even out wear and tear.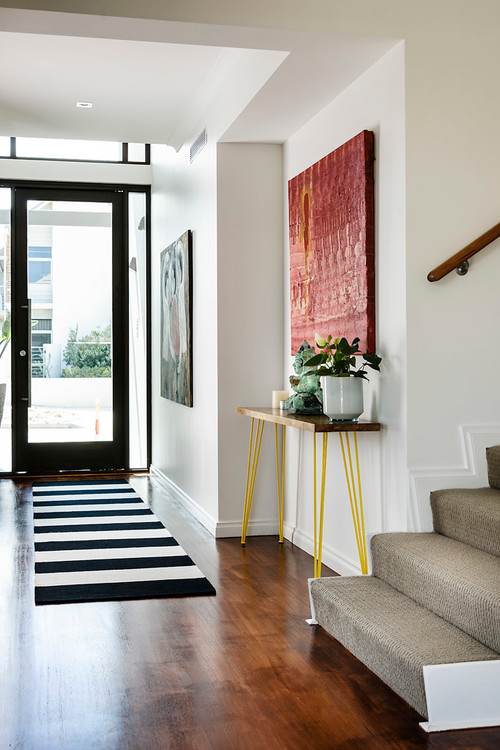 Wonderful white
Do you have a dark entryway? Painting the walls and ceiling in light colours, such as whites and neutrals, is a great solution as these shades will bounce the available light around and make the space appear larger than it actually is. If you love colour, consider adding it in other ways – a fabulous pendant light, a work of art on the wall or a medley of beautiful, coloured vases on a console.
Tip: When choosing colours for your entrance, be sure to factor in the flow to the rest of your home. Make sure the colours you choose complement those in adjoining rooms.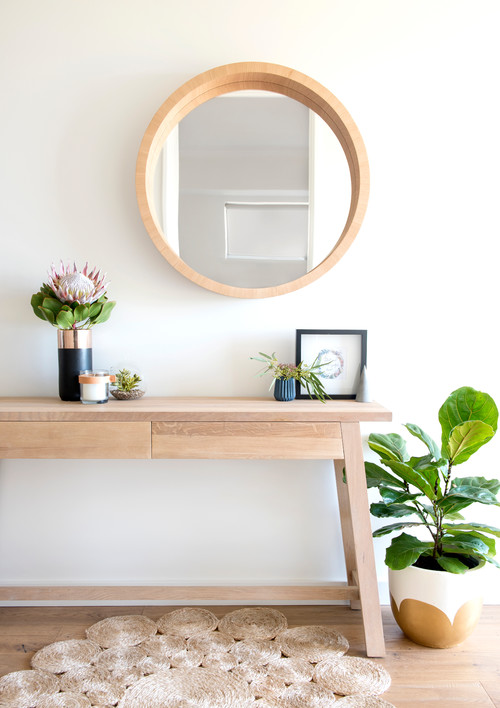 Stain-resistant finishes
For a busy entryway, you'll want a durable paint finish that can withstand scuffs and scratches. This no longer limits you to high-gloss paint – you can now find washable and stain-resistant paints in all manner of finishes, including matt.
Tip: A mirror can be a great addition to a dark entryway as it will reflect the available light around and make the area feel brighter. In a hallway with lots of straight lines, a large round mirror can also help smooth out the sharp edges and add softness to the space.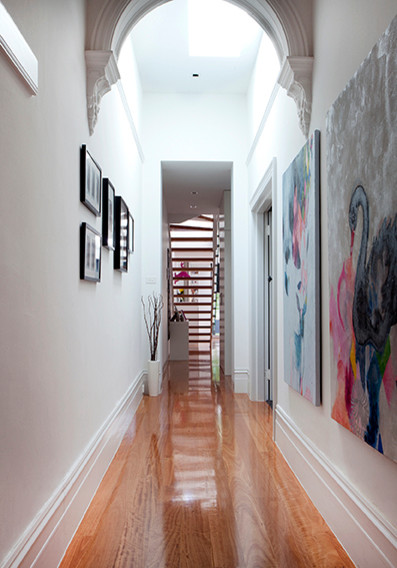 Family display zone
The entrance is a natural place to introduce guests to the members of your household, and reveal a little about what matters most to them. Use the walls next to your front door to display family photos, treasured moments and important milestones.
The trick to making even simple snapshots work in this spot is to have them properly framed and hung. For a smart, contemporary look choose multiples of the same large frame (say 16 x 20 centimetres); space them evenly along your walls in rows and columns. Three rows of three or four, depending on ceiling height, is ideal for this frame size.
If you prefer a more organic look, opt for frames in the same colour but mix up the styles and sizes. This 'gallery wall' look works best if you hang frames relatively close together.
But display opportunities aren't just limited to your walls. A console is the perfect spot for a character-filled arrangement that tells your story. This could be a favourite vase, a beautiful candle or family photo – something that makes you happy every time you walk by.
Tip: Hanging art on the walls above a piece of furniture? As a rule of thumb, go no wider than the piece of furniture for a balanced feel.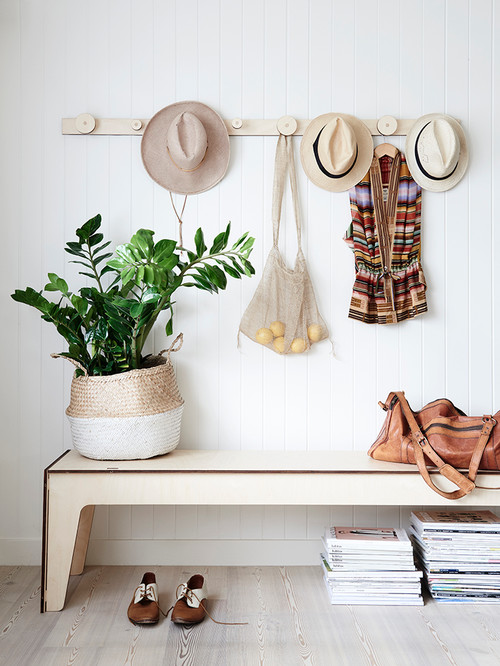 Well-proportioned furniture
A bench is a smart choice for a hallway; it provides a handy spot to sit and pull on your shoes and won't swallow up too much floor space. You can also use a section of a bench to create a fun, casual display. Add storage boxes or baskets underneath to keep the area clutter-free.
Consoles and bench seats vary in depth, so measure up before you buy. Use masking tape to indicate the dimensions of the intended piece in your hallway. Leave it there for a few days and see if you feel the space can carry it. As a general rule, leave a minimum of 90 centimetres clear in your hallway to ensure a comfortable flow of traffic.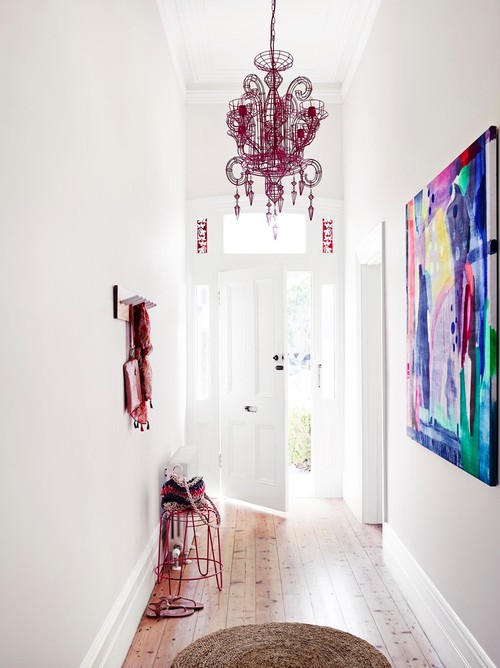 Statement lighting
If space is particularly tight in your entryway, bypass furniture altogether and make lighting the key feature. If you've got high ceilings, a fabulous pendant will draw the eye upwards and detract from the cosy dimensions of the space.
For standard 2.4 metre ceilings, consider a lighting style that sits closer to the ceiling so there's no risk of anyone bumping their head. If your hallway is long, consider hanging a series of ceiling lights to illuminate the full length.
Source: Laura Downie, Houzz Australia Contributor, Houzz