5 Unexpected Ways To Save Space At Home
We're living in a clutter-free age where minimalism for many people reigns supreme.
But let's be honest, after years of flat-sharing, travel and moving state, you've probably collected loads of junk along the way.
So, the question is: How can you store it happily – and without fuss – at home to make life feel free and easy?
From roof storage and nooks in the corner to beds with in-built storage, here are five surprising ways to save space and gain extra storage in your home when you're renovating or redecorating.
Picture: Lauren Bamford
1. Look for cavities under roofs & in walls
When you're doing a new build or renovating, look for cavities under roofs that were never used before. They can provide unexpected spaces to hide and store gear that you rarely use and refuse to part with. In Lana Taylor's master bedroom, for example, new cavities were found under the roof, so four little doors were cut out under the window to create additional storage space.
2. Buy furniture with in-built storage
Maximising space is key to fuss-free living, so it's a no brainer that furniture with in-built storage is proving to be so popular at the moment. One example includes chic outdoor benches that double as handy places to store your gardening tools and pot plants, like this stained Ikea bench. Stylish storage beds, such as the one below from Temple & Webster, are functional and boast additional space under the bed to cheekily hide your stuff. The best part is – no one will ever know.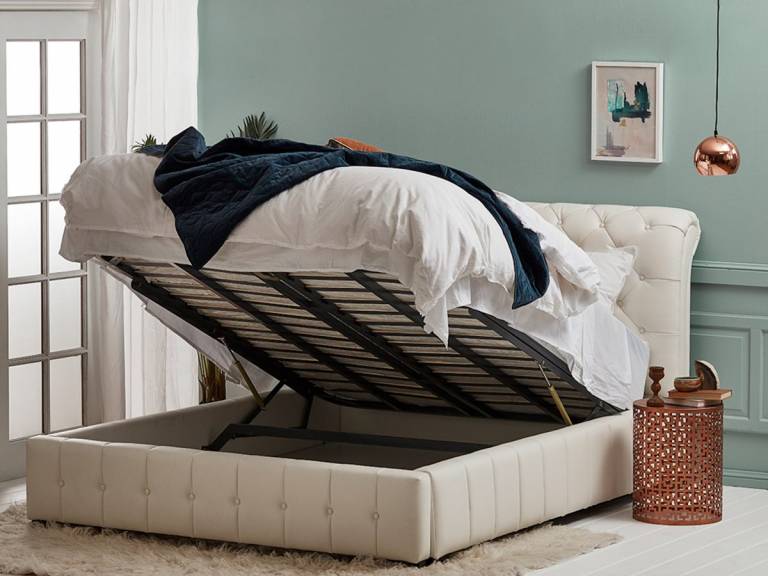 Styling: Allira Bell and Jono Fleming Picture: Temple & Webster / Denise Braki

3. Go mad with hooks
Hooks! They're everywhere, sure, but how many times have you actually considered using them to store things at home and save space? Use hooks to hang big-ticket kitchen items like pots and pans from the ceiling or items in your laundry, or try using them as ways to store jewellery, coats and scarves. Hooks are cool, trendy and offer easy solutions to rid your floor and cupboards of all that stuff.
4. Make use of hidden nooks
We all love a little nook, even more so when they're quiet, light and offer a tranquil space to take time out to relax. In the past, you may have disregarded the idea of ever having one, simply because there was "no space" for it. Those no-space zones, however, are often the areas that can lend themselves perfectly to a quiet nook – and can be spots where you can keep extra things. So take a another look at your home with fresh eyes and see where a nook – for chilling out in and storing items – might just work.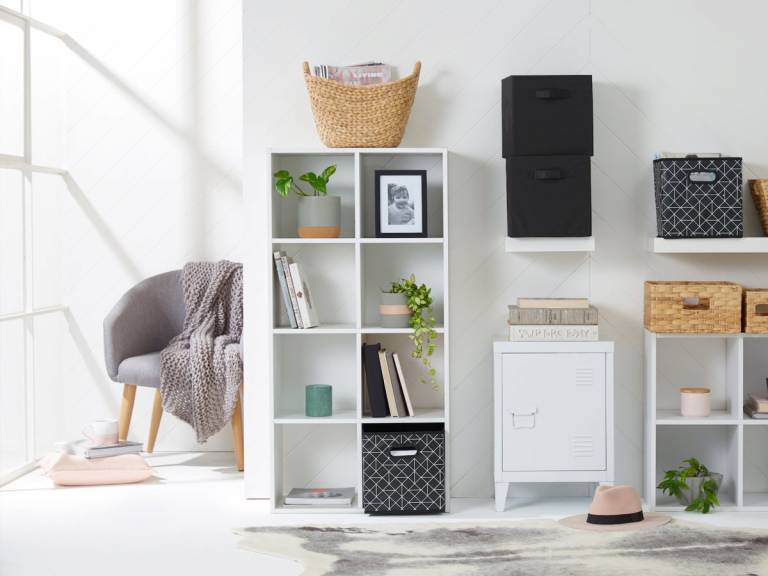 Picture: Kmart

5. Use high ceilings to your advantage
If you're planning to put in a built-in wardrobe during your reno – or are creating your dream walk-in robe – be sure to account for all the additional space at the top of the wardrobe, so from floor to ceiling. You'll always be able to access this cupboard space, even if it's up high, with a stool or chair – and you can use the space to store away items like wool blankets that you only use seasonally.
Picture: Getty

Source: Kristy Barratt, Realestate.com.au