Buying A Gas Fireplace? 6 Of The Hotest Features To Look For
Offering instant heat and a cosy glow, a gas log fire is hard to beat – here are the must-have features to seek out.
There's a chill in the air, which means it's time to dial up the warmth factor at home. If you're in the market for a new log fire, chances are you're considering gas – and for good reason; it gives you an instant flame at the touch of a button, precise temperature control via remote control, and unlike a wood-burning style, it can be used to heat your living room with zero mess or fuss.
Gas fires have come a long way in terms of looks, technology and efficiency in recent years. Here are the six must-have features to look out for in the Cannon gas log heater range.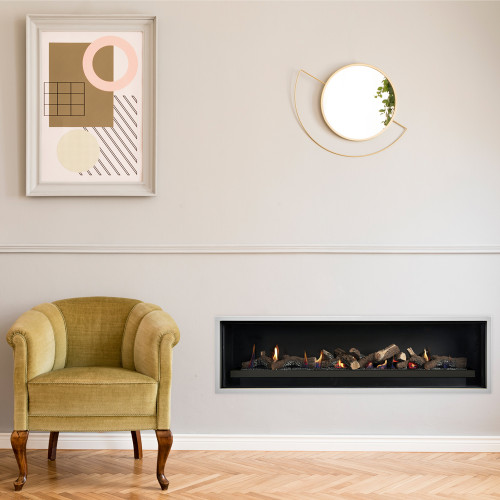 Cannon Latitude 1500 gas log inbuilt fire

1. Sleek lines
When it comes to built-in gas fire trends, slimline is in. Long linear styles with minimalist lines are the ultimate style chameleons, blending seamlessly into both contemporary and traditional homes.

Extra-large viewing panels are also gaining traction, allowing you to enjoy a better-than-ever view as you relax by the fire. Cannon's Latitude 1000 and 1500 models, for example, boast extra-wide, double-glazed viewing windows and a full-width flame pattern giving you a clear and unobstructed view of the flickering flame without the need for an unsightly mesh guard.

The visuals on today's gas log fires have improved immeasurably too; Cannon's Canterbury freestanding and inbuilt gas fires, for instance, have realistic eucalypt-look logs – an appealing choice for living areas and family rooms in Australian homes.
Cannon Latitude 1000 gas log inbuilt fire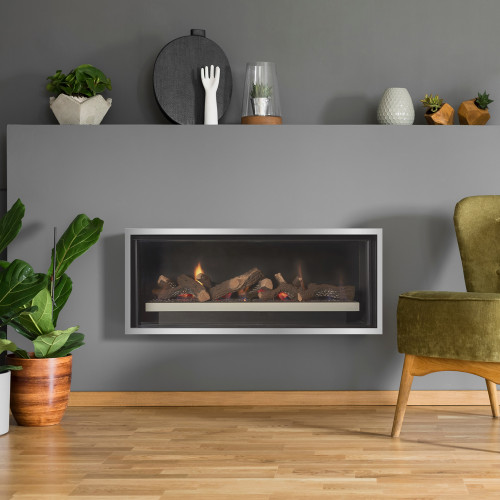 2. Clean air
Concerned about your indoor air quality when running a gas fire? You no longer need to be; there are models on the market today specially designed to help improve your indoor air quality, while offering powerful and efficient heating.

Cannon's Latitude 1000 and 1500 inbuilt log fires, for example, feature room-sealed, power-flue technology, which feeds the fire with fresh air from outside your home and disperses exhaust gasses outside to deliver clean, safe and efficient heating throughout your living room.

These models also come fitted with reusable air filters that prevent dust particles from entering your interior so you can be confident that everyone in your household is breathing clean air.
Cannon Fitzroy gas log inbuilt fire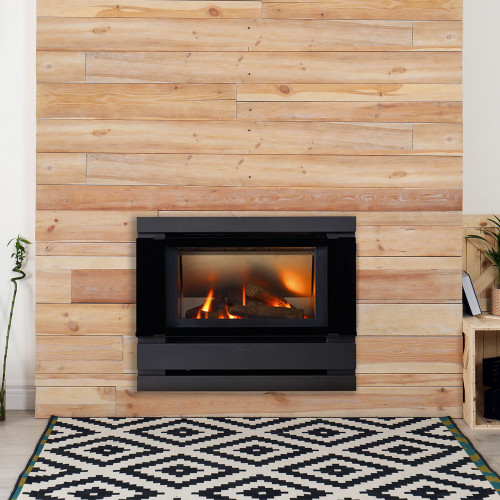 3. Zero clearance
Seamlessly integrating a fireplace within a wall of timber joinery is one of the hottest interior trends of the moment. If it's a look you love, you'll need a gas fireplace with a 'zero clearance rating', which means the firebox can be safely installed within a wooden frame. Appealing zero-clearance styles to consider include Cannon's Latitude 1000 and 1500 inbuilt gas log fires.
Cannon Canterbury freestanding fire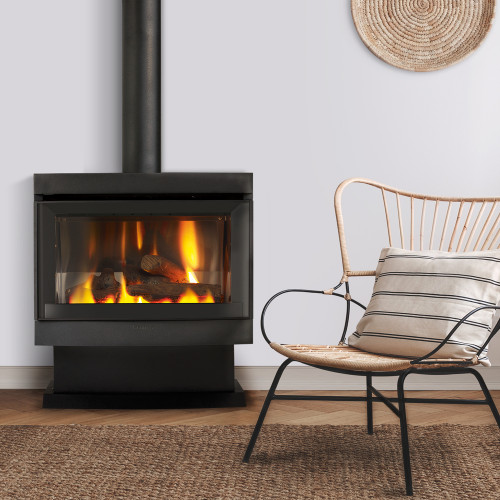 4. Flexible installation
Advances in flueing technology have opened up the installation options for gas log fires. The Cannon Latitude inbuilt models, for example, offer flexible installation with up to 15 metres of flue, which can be installed horizontally, vertically or a combination of the two to suit your home's layout.

The Cannon Latitude 1000 and 1500 only require a minimal cavity depth of 402 millimetres into a fabricated mock fireplace.

Cannon's Fitzroy and Canterbury inbuilt open-flue gas fires can be installed into existing chimneys using a flexible flue liner.

Freestanding gas log fires are a hot option in the design world right now, and some standout models offer quick and convenient installation too. Cannon's Canterbury freestanding gas log heater, for instance, can be installed on a combustible or non-combustible surface for the ultimate in design flexibility. Install it on a timber or tiled floor in your living room, family room or open-plan area – the choice is yours.
Cannon Latitude 1000 gas log inbuilt fire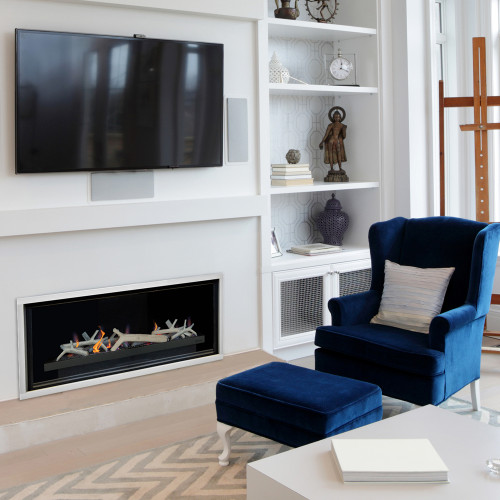 5. Higher efficiency rating
Gas is one of the most affordable fuels available, allowing you to create a comfortable indoor temperature without the sting of a hefty power bill. And thanks to improvements in the energy efficiency of gas log fires, heating your home is now even more affordable.

Gas fires are labelled with a star rating, which tells you how efficient they are to run. The rating ranges from one to five stars – the more stars, the more efficient the model. A higher star-rated model also produces less emissions, so it's better for the environment.

If you're looking to warm your home for less and reduce your carbon footprint, it's worth seeking out a model with a five-star energy rating, such as the five-star rated Cannon Latitude 1500, which has an impressive 86% thermal efficiency.
Cannon Canterbury gas log inbuilt fire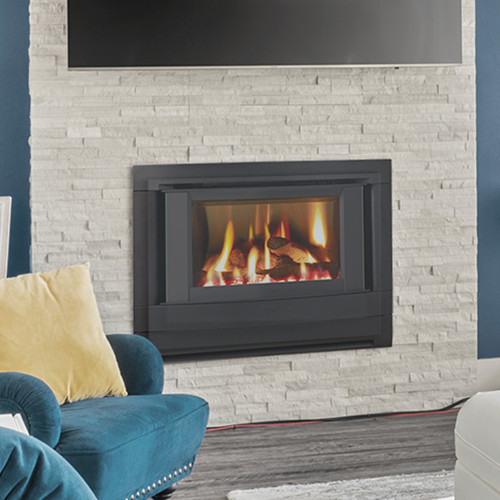 6. More powerful and greater coverage
Today's gas log heaters are more powerful than ever, with some more than capable of keeping a spacious, open-plan warm and comfortable all winter long.

If you have a big room to heat, seek out a design that's specially designed for extra coverage, such as Cannon's Fitzroy and Canterbury built-in gas fires, which can heat spaces up to 80 square metres.

Need to warm an even bigger space? Cannon's Latitude 1000 and 1500 built-in gas models can heat up to 120 and 185 square metres respectively – ideal for extra-large, open-plan kitchen/living/dining areas in a family home.

Cold weather, conquered!
Source: This story was written by the Houzz Sponsored Content team. Cannon.