8 Quick DIY Style Updates For Every Room Of The House
Give some old chairs a new lease on life with a fresh lick of paint. Photo: iStock
If your current space is looking a bit dated, your mind might wander to a full-blown renovation to spruce things up. Alas, there are a few solutions that don't involve knocking down walls and replacing flooring.
These projects are quick, easy and will have your home looking refreshed in no time. Best of all, if you're at a loose end this weekend, you'll have ample time to get something done.
The bedroom
A new bedhead is a great way to switch up your space. Go DIY by sourcing a piece of sturdy timber from a local hardware store and then either painting it, staining it or covering it in fabric.
"To upholster a bedhead you need to have the right type of fabric – it needs to have some weight behind it and it will need a tight, firm pull so you must pick a fabric that allows for that extra tension," says designer Anna Giannis of Anna Giannis Interiors.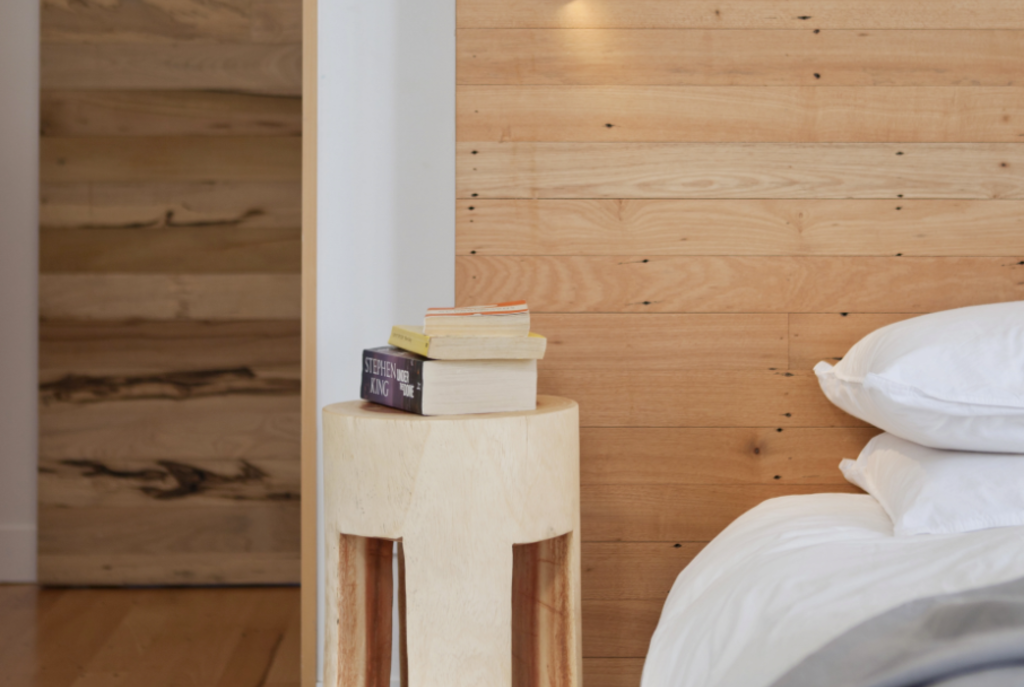 Looking for a weekend project? Try making a DIY timber bedhead. Photo: Peta Davy
Giannis says to allow for a 10-centimetre overhang to ensure there's enough material to cover the top and sides of the bedhead.
For a relaxed look, Giannis suggests a heavy linen or cotton drill. For something plusher, stick to luxe velvets or chenille.
Customers choose between two opposing shades and can swap between the two whenever the mood strikes with a simple flip of the bedhead. Pair a cool-grey Slate with the neutral Sesame, dark Bluestone with warm Nectar, or make more of a statement with Jade or Camel.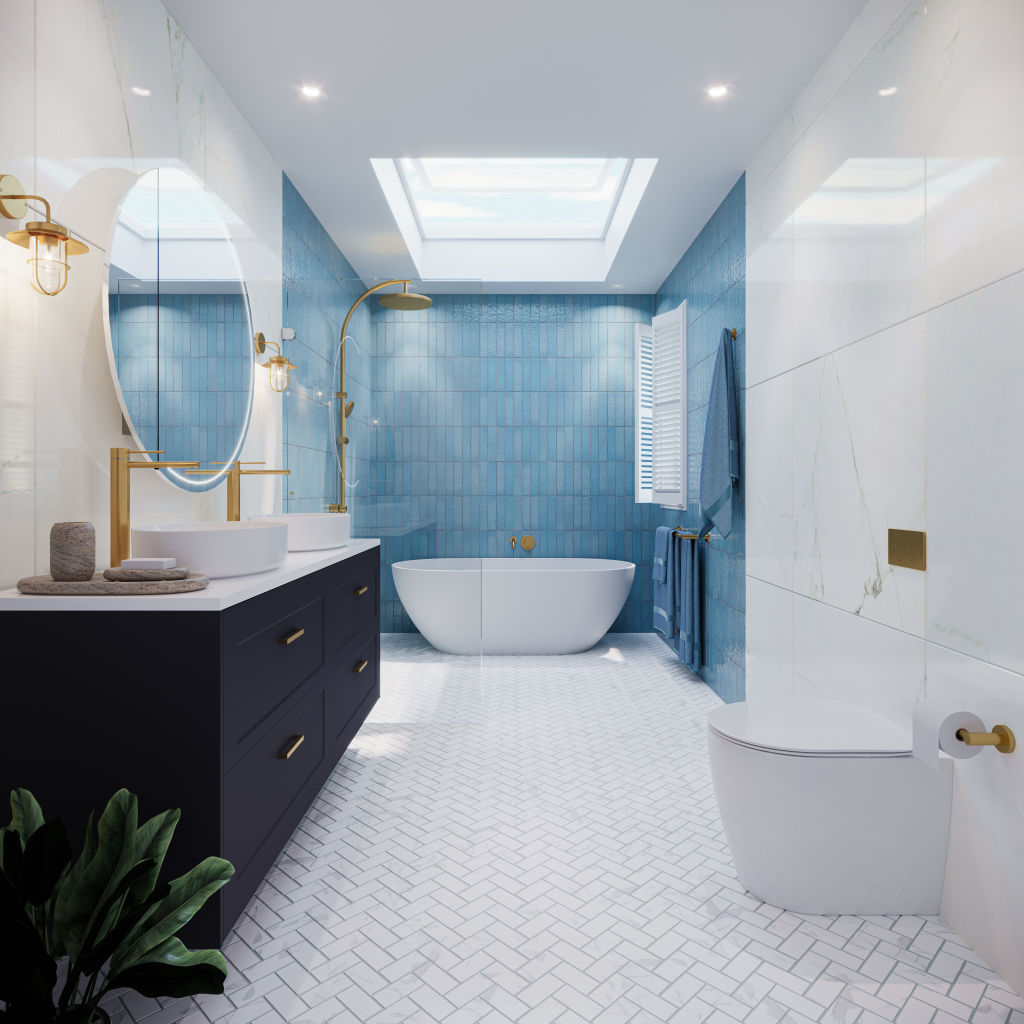 The Atmosphere tile in Ice Blue gloss adds a subtle pop of colour to this stylish bathroom. Photo: Beaumont Tiles
The bathroom
Bathroom looking a little dated? Bring it into 2021 with a simple swap of the tapware, shower head and cupboards or handles for an instant refresh.
According to David Richardson, the national buyer of bathroom ware at Beaumont Tiles, stainless steel will continue to rise in popularity, and champagne-toned and brushed-nickel tapware will be a popular choice for home renovators.
"Soft finishes give it a delicacy that complements many trending style narratives," he says. "At present we're finding that DIYers are opting for more subtle, nuanced choices in their aesthetics.
"For vanities, it's all about the painted look coupled with routed doors and drawers, as well as the fluted vanity in an oak finish. When it comes to mirrors and shavers, the top on-trend shapes for 2021 are the arch shape and elliptical, as people seek a bit of a refresher on the typical circular shape while still looking for something timeless."
Make sure you're replacing taps and handles with the same size to avoid gaps, and don't forget to think about the length of the spout: too short and you'll have water all over the basin; too long and you may not have enough space to use it properly.
Be a savvy shopper and swap to a water-efficient showerhead to save you cash down the track, too.
Love them or hate them, updating a shower curtain is a cheap and easy way to add some style or colour to a tired bathroom. Opt for bright hues or patterns for a pop of colour or, for something a little more luxurious, try linen. Pair with a waterproof liner to avoid spills and mildew build-up.
The kitchen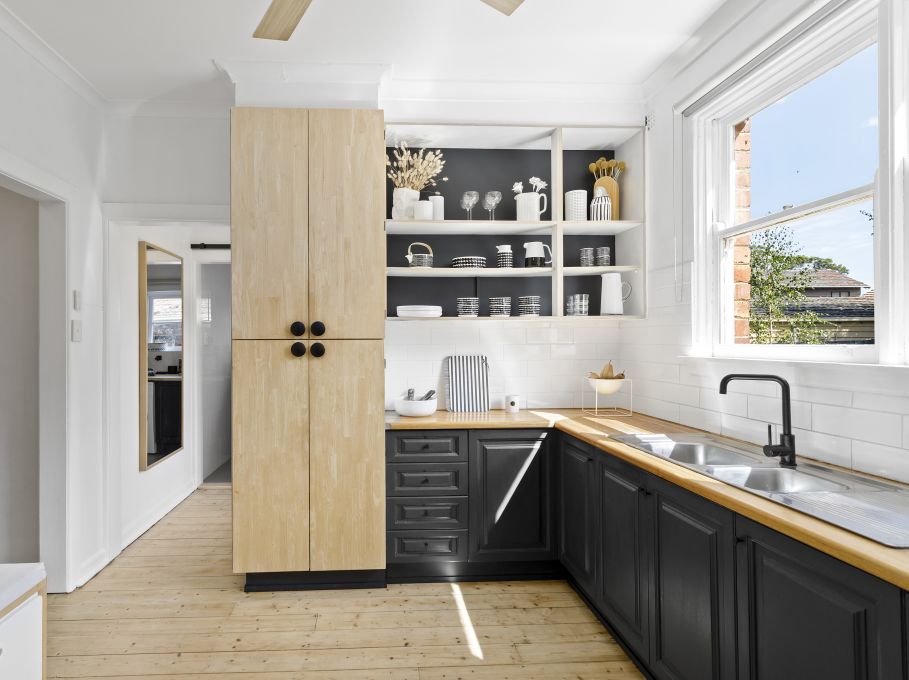 Update benchtops and tapware to make the kitchen a place in which you enjoy spending time. Photo: Woodards

Undoubtedly the hub of the home, the kitchen is somewhere you arguably spend the most time.
Replacing benchtops is a simple way to refresh an older kitchen without committing to a full renovation, but beware, this is a bit harder on the DIY scale so calling in the experts might be a safer bet. This job also needs a bit more preparation, so allow ample time for it.
Giannis says it's important to streamline your style to avoid clashing design elements, especially when it comes to open-plan living. Creating a mood board will help with this.
"If it's an open-style kitchen make sure to take into account the whole space … if the kitchen is part of a big, open area you want to balance that whole space and the whole house."
Timber, laminate and composite stone are versatile and affordable options.
Updating tapware and cupboard handles is a smaller-scale update, but bound to make an impact, too.
The dining room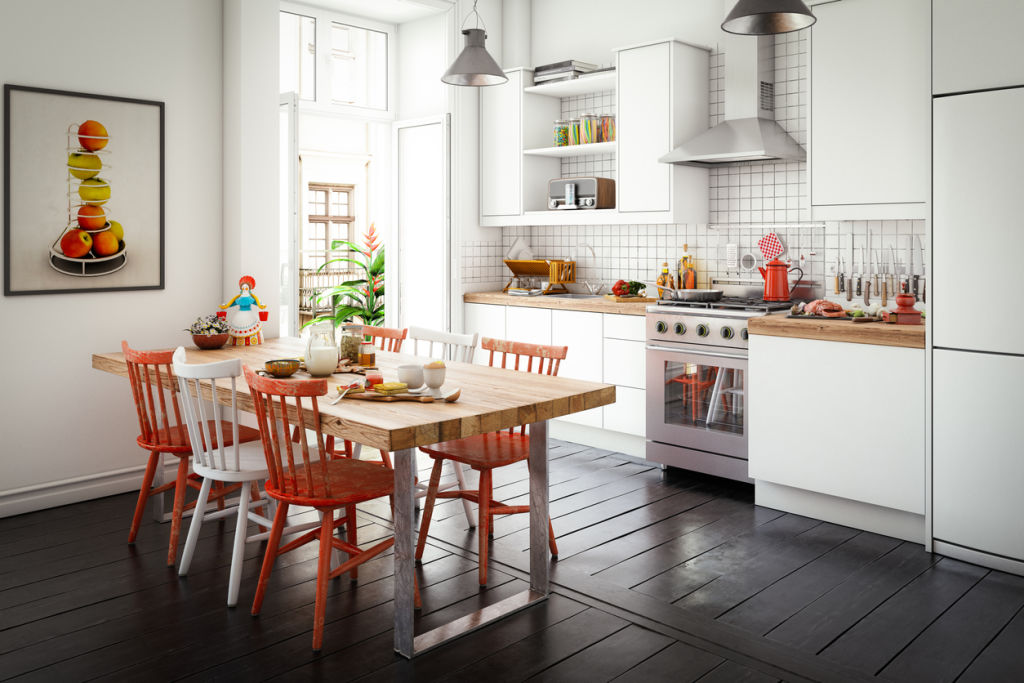 A simple way to brighten your dining space is to paint the dining chairs. Photo: iStock
Got some old dining chairs that have seen better days? Why not grab some sandpaper, sand them back then paint them in a bright hue to liven the space.
Giannis says preparation is key here: "Test the colour with a sample pot – it's the best $5 you'll spend. Let it sit for a day too, to make sure you like it, especially if you're going into non-traditional colours – very bright or pastel colours."
Do two coats of paint for a fuller look and better coverage.
Giannis says you can apply this same principle to any other unloved furniture items you may have lying around – give an old TV unit, coffee table or buffet a new lease on life.
The living room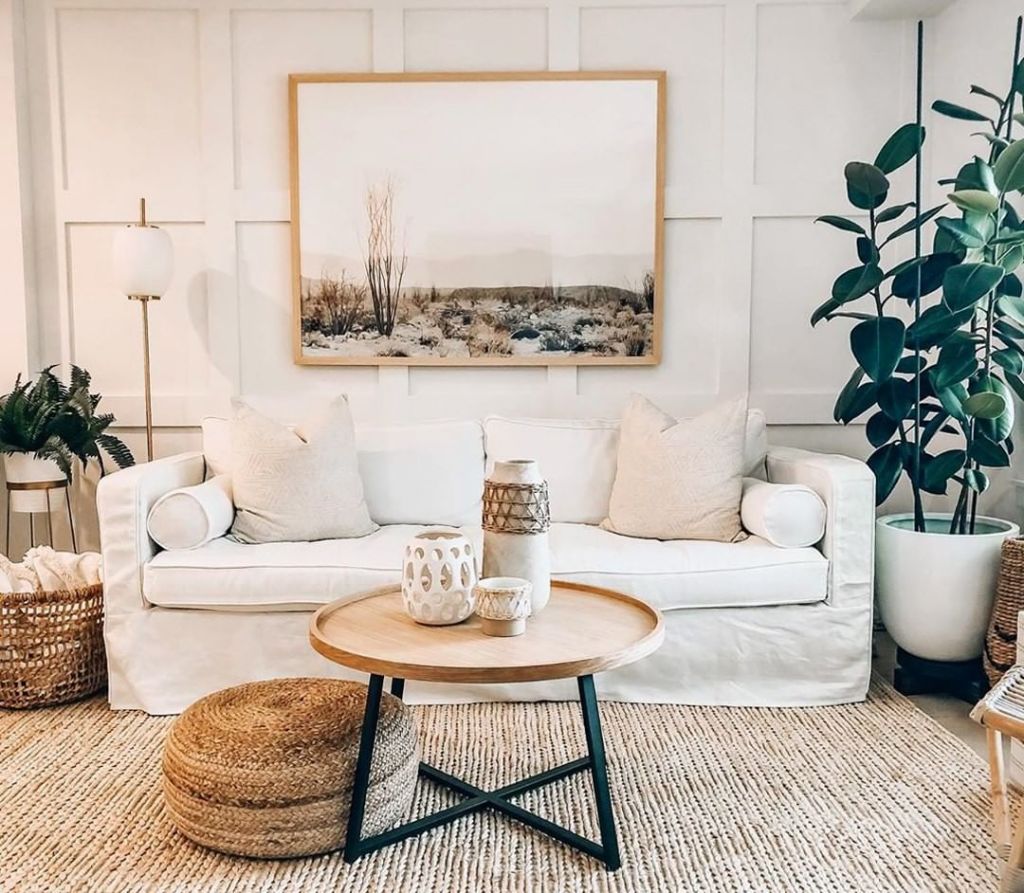 Pure Linen White slip cover from Comfort Works. Photo: Instagram: @comfortworks
Giannis says using covers in the lounge area is a great way to change colours and textures without the expense of buying a new couch.
Comfort Works makes covers for Ikea, Pottery Barn and Muji couches in a range of fabrics including cotton, linen, velvet and vegan leather, and can custom-make covers if needed. It's a win for the environment and a win for your hip pocket.
If the thought of battling with three-seater oversized couch cushions and covers is just too much, why not jazz up that old occasional chair with an on-trend fabric? You can do this one yourself, but outsourcing the task will ensure you get more of a tailor-made look.
Likewise, you can give your walls the gallery treatment by investing in some stand-out artworks or opt for a DIY photo wall.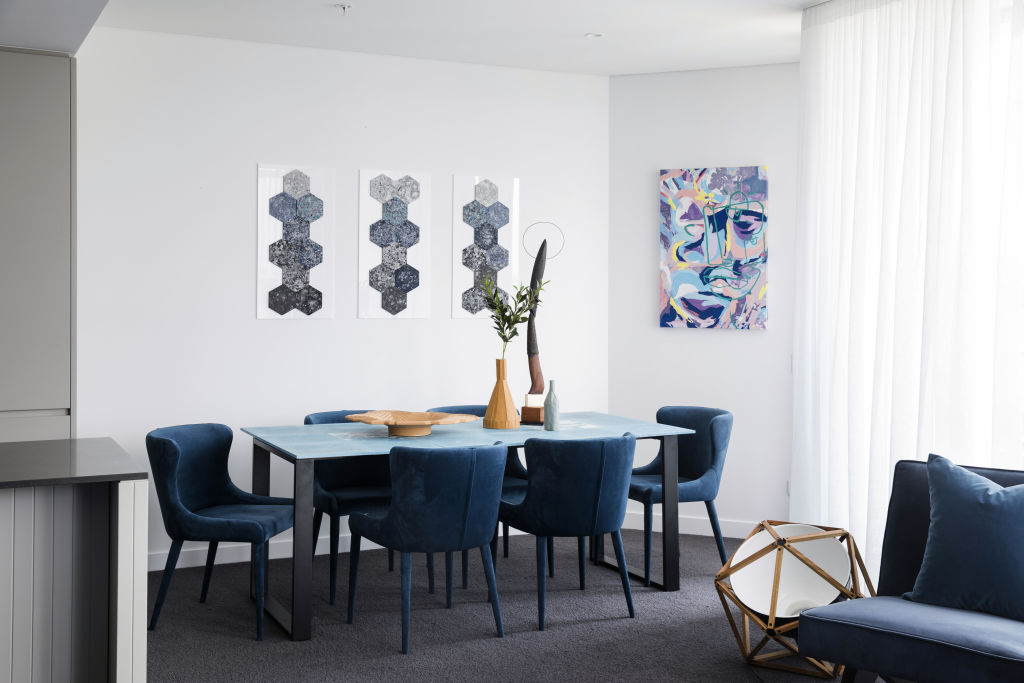 Hanging bright art on the walls can change the feel of a room.
"Art can make a huge difference to a living room so make sure you love the piece as it's something that you'll have for a long time. If you're unsure, you don't buy," Giannis says.
If you can't choose between a Brett Whitely or a John Olsen, consider art leasing through the government initiative Artbank.
After a chat with an art consultant, they'll curate a collection of works to suit your style.
Your artworks will be refreshed every 12 months and rental costs range from $150 up to $5500 per year with a minimum annual spend of $550 – it's up to you how much you want to save or splurge.
The home office

Floating shelves are an easy DIY job to add more storage options to your home office. Photo: Nat Spada. Styling: The Stables
Your "home office" might just be a spare bedroom, a sunroom or a cloffice, but that doesn't mean you can't make it work as a functional space.
Up the storage factor by installing some floating shelves. There are many options to choose from to suit the aesthetic and size of your space.
"Once they're up, style them," Giannis says. "Add a bit of greenery, some books, a candle, a photo. Stack folders neatly in a dedicated section."
Grab a paintbrush and try a new colour scheme, or opt for removable wallpapers to refresh your work zone.
The laundry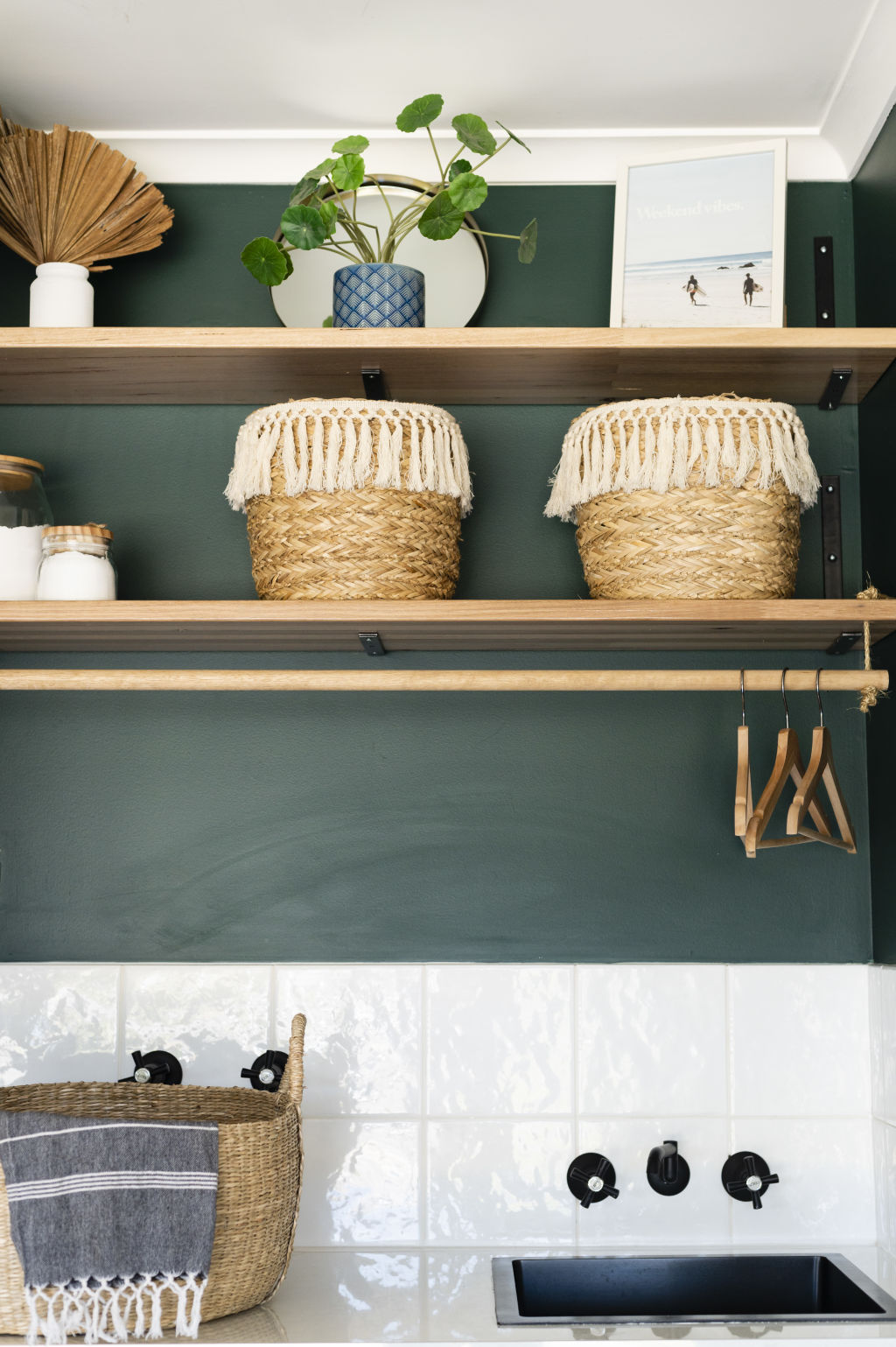 A pop of colour in a laundry will lift a drab space. Photo: Marc Pricop
Is there nothing a lick of paint can't fix?
A pop of colour in an otherwise drab room will work wonders – and could even make you enjoy doing the washing and ironing.
Again, preparation is key here, so make sure you do a test patch and see how the colour looks a different times of the day before settling on your chosen hue.
Melbourne-based business Tint has created reusable paint-swatch stickers that you can peel and stick as often as needed and the gentle adhesive won't harm your walls. There are 80 colours to choose from but if you can't find a hue that works for you, you can create your own custom colour with their colour-matching technology.
The front yard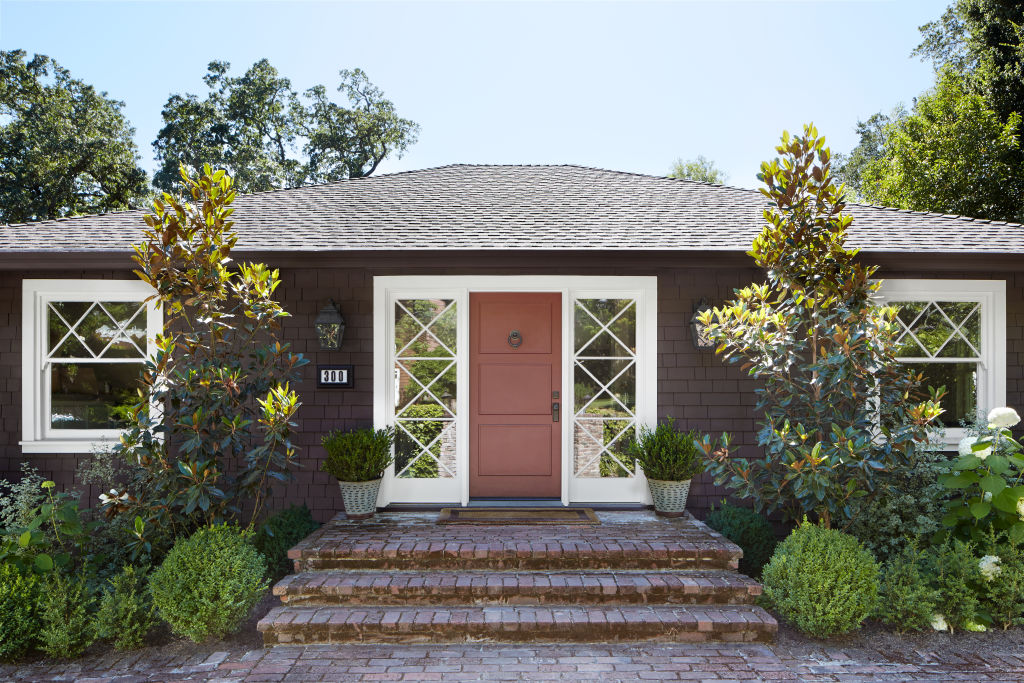 Enhance your street appeal by giving your front entrance some TLC. Photo: Stocksy
First impressions count, so why wouldn't you want to create something you'll love coming home to each day?
Give your front entrance some TLC by updating to a new front door, or restoring or painting your current one.
"Black is normally a great colour for a front door, especially if the door is not brand new – it can conceal a lot. Add some beautiful door furniture – a big handle in gold or chrome," Giannis says.
Try tidying up the front garden, repotting and replanting, or even something as small as getting a new doormat.
Your neighbours will thank you too, as making a few small tweaks will enhance the street appeal.
Source: Domain.com.au